November 2018 Words + Art Reading + Poem
exhibit | walls turned sideways: artists confront the justice system
artists | various
While this poem makes references to specific elements of this exhibit, it also makes reference to several notable events happening around the time it was written to explore justice-system related themes of equity, access, power, voice and current states and concepts of 'justice' and justice for whom: the testimonies of Dr. Christine Blasey Ford and Brett Kavanaugh in the U.S. Senate Judiciary Committee Supreme Court Justice nomination hearing and the ugly portrayal of Serena Williams at the U.S. Open by a satirical cartoonist in Australia.
POEM | WHITE SPACE-NEGATIVE SPACE | ERASURE | UNSAID (nov 2018)
Unraveled
       freedom
Rewound
       unbound
Cut out
       as a tongue sliced into silence
       – or rest
Absenced
       into presence
Confession
       abstention
       (conscience leaves the chamber)
In privilege
       you get to cry and turn red
       over your spilt beer
       and the sailing of your ship
       into a mist that goes by the name of
       Lazarus (Emma)
              who will rise again in 4 days –
              the number of Humanity
In courage
       you get to be scorned
       and laughed at
       and having to play pretty
       to voice at all
       while shuffling off the gangplank
              …and this when
              you're white and privileged, too
The banners are in tatters
       at Standing Rock
       couldn't we see the petroglyphs
       on the wall
       and the exaggerated lips coming back out
       to be smeared on Serena
       all the way from a place
       that got its start as a penal colony
But the walls cannot stand
       they are gauzy
       and mist
       when we are not only of body
              or the enflamed emotions
              or even the mind
              – one of the greatest prisons of them all
Freedom can't be bound
       when the soul
              of a life
              of a nation
              of a people
              of Humanity
                     is aflame
And they have tossed the match
       yet again as they sail off the edge
       of the world
       in the gasoline sea of beer kegs
       that will turn into floodlight bombs
       sweeping away the darkness
       of the psyche
       into the celebration of
       the richness of the skin
       within
Our Debut Voicing Art Book
Voicing Art: Poetry of Space | Place | Time
is now available!
Poetry inspired by works of art, the art of nature and the exploration of beauty, perception and insight through the cartography of the unseen.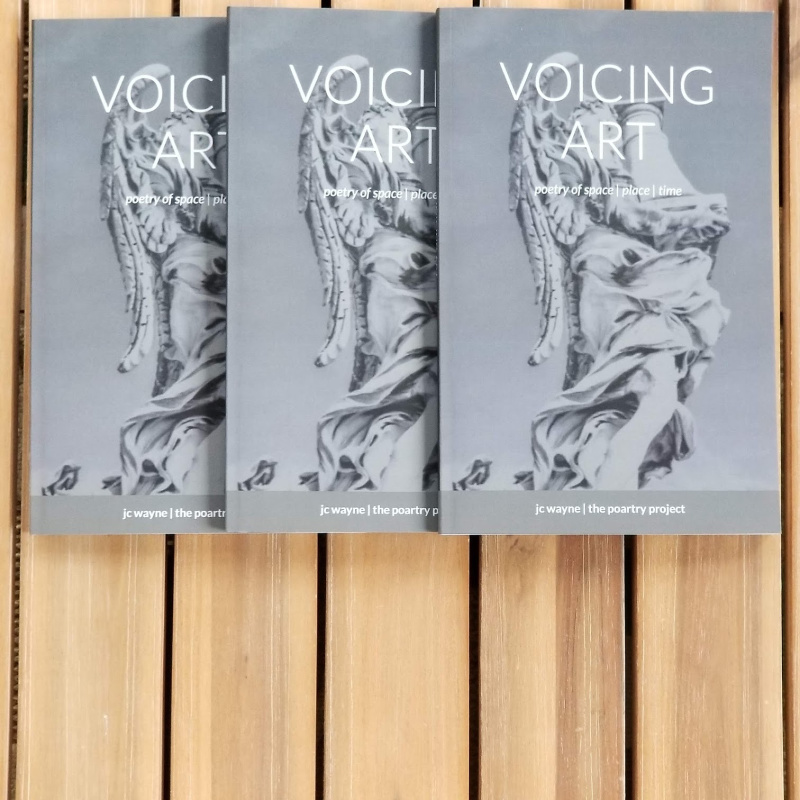 Subscribe to Our Newsletter
Keep up with all sorts of creative opportunities, events, prompts and news. We won't share your data – ever.