Mentoring Adventure Programs
providing a space + spark to ignite the creative voice that lives within us all
Mentoring Adventures Programs
Amidst a life of popularly perceived "high value" work with presidents and ministers of countries, mayors of cities and international organizations through our background in diplomacy, it is our work mentoring youth and facilitating adventure learning opportunities for explorers of all ages that has proven most meaningful with great immediate visible impact.  Helping give voice to the creative spark in all lives is the most significant contribution to world citizenship that we can imagine.
HOW IT WORKS
We combine poetry, word play, art, crafts, observant walking in nature and storytelling to help ignite brave and fearless creativity, curiosity and expression that removes or avoids so many of the creative inhibitions that most lives are conditioned with from their earliest days.
We create a space of "no mistakes" – only experimentation and exploration – through spontaneous experiences with a guiding structure.
We coax creativity to come out and play through questions, and we apply a completely unique insightful perception based on a child's or young-at-heart adult's "energy ecology" to tap into and draw out their essence and nascent loves.
We know, see and relate with lives as souls whose light is as powerful and life-giving as the sun whose warmth we enjoy on our outdoor adventures, and we are able to perceive visually the geometrical blueprint and map of each life's purpose(s) and potential paths.
This blueprint is part of each life's "cartography of the unseen", formed by their energy ecology. This isn't wooey, fluffy stuff – it is a form of the art and science of the "way of the energy artist", whose purpose is to be an agent of pioneering beauty, perception and insight to help train the next generation of evolving lives, which is profoundly different from what has come before. This agency, energetic perception and capacity to relate with even the youngest and most traumatized lives as co-equal souls creates impacts that cannot be put into words, but can be witnessed in the light of the eyes of each life and community we work with.
At the beginning of any new mentoring activity or group, we start immediately by verbally creating a group poem together of what we love to help introduce ourselves. This helps us remember what each participant cares about and makes the usefulness of poetry immediately obvious. And it helps people who don't think they can write poetry, or find poetry intimidating, experience immediately that anyone can write poetry, and that it's fun.
KING STREET CENTER SUMMER CAMP INTRO POEM
JC likes green tea.
Jace likes to trace Pokemon.
Abdille likes to feel.
Maiya likes coloring.
Katia picks up slugs and sticks.
Gabes enjoys doodles and poodles.
KING STREET CENTER "SUPERHERO 6" INTRO POEM
Shreha likes to play with puppies.
Maria likes to walk on the beach rocks.
Myley likes animals.
Cora likes chameleons.
Gabe likes people who are kind to animals.
Katia likes questions and cakes.
Scarlet likes everything!
JC likes to be.
I WONDER
This poem was written by JC, the Poetry of Nature Walk adventure guide, during our nature walk down to the shore of Lake Champlain. It incorporates things written, mentioned or drawn by each of the participating summer camp walkers in response to our exercise of perceiving water in new ways with different senses than we usually use.
I wonder, Abdille,
where life will take you
to see a boat sink,
and how your riddling rhyme
will right the world.
I wonder, Maiya,
what words your will hear
into life's music
and what music
you will create with the
colors of your song.
I wonder, Katia,
how your art will bloom
and what magic your
special eyes will see
as you blow your trumpet,
so loud and proud.
I wonder, Jace,
what place today has led
you to – hopefully a happy
one – as we feel the spot
where your bright presence
would be.
We wonder, Gabe, the
what of your heart-shaped
rocks' North Star
and the wheres and
why of how it has
guided you on your way.
I wonder, Water, if you
sing to be recognized and
heard in a new form –
the sound of "drops of
rocks".
I wonder, Artist,
if you will remember –
on a cold winter's day
in the twilight of
your years –
the bright young souls
warming the heart of
your bright boat
with the luminous rays
of their kindful curiosity.
*NOTE: KINDFUL is not a very common or known word. It means "natural" and "unaffected".
King Street Center Summer Campers running to see an artist painting a boat on our second Poetry of Nature Walk.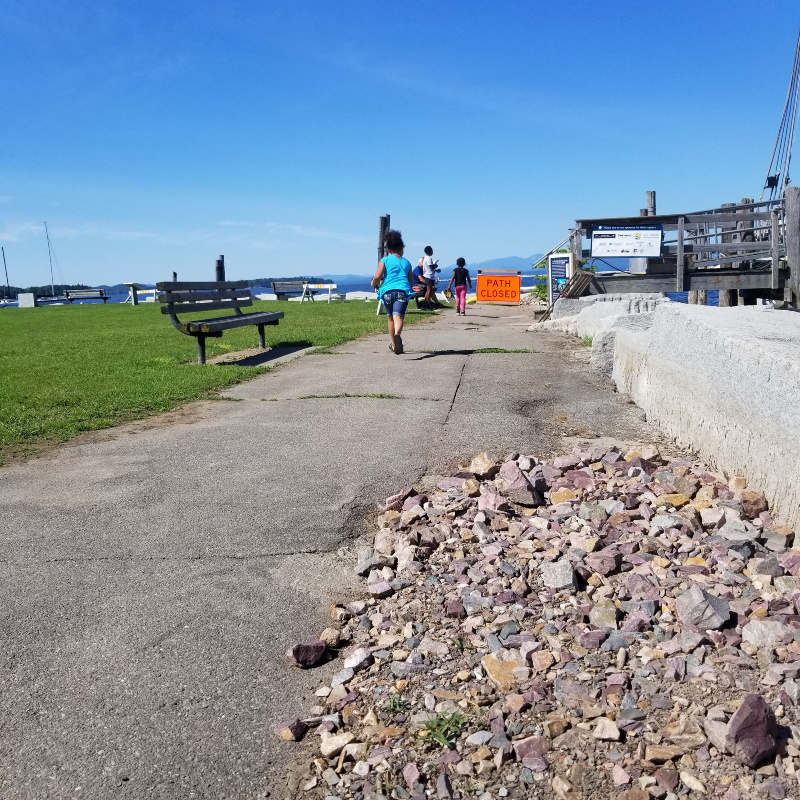 KING STREET CENTER SUPERHERO 6 GROUP LAKE POEM
The lake is pretty.
You are telling the story.
It's the story of a ghost.
So the lake is so sunny.
So the lake is so shallow.
The lake is so sunny today.
The lake is so small.
The fish is swimming.
We can go swimming.
We are at the beach.
Imagine that we're on an island.
Imagine we're on a beach.
You can go on a boat on the lake.
You can paddleboard.
You can canoe.
Imagine that there's a unicorn.
When you were falling and the unicorn saved you.
It had wings and flew over you.
We are looking for shells in the water.
We are writing.
We are writing poems.
We are writing nothing.
We're writing because it's fun.

(This poem is constructed of different lines created spontaneously and verbally by each of the kids.)
KING STREET CENTER SUPERHERO 6 "ROCK OUR WORLD" POEM
Rocks are cool + wet,
wet + warm.
Smooth + hard –
what makes them stick together?
Must be a galaxy
where huge branches
are light like air
and wood looks like rocks.
The rock draws me,
as the sea glass draws to
a girl in blue,
hearing her call.
(The is the last poem we created together outside during the 2020 after school program before the pandemic paused in-person mentoring. The poem is constructed of different lines created spontaneously and verbally by each of the kids.)
Voicing Art: Poetry of Space | Place | Time
Poetry inspired by works of art, the art of nature and the exploration of beauty, perception and insight through the cartography of the unseen.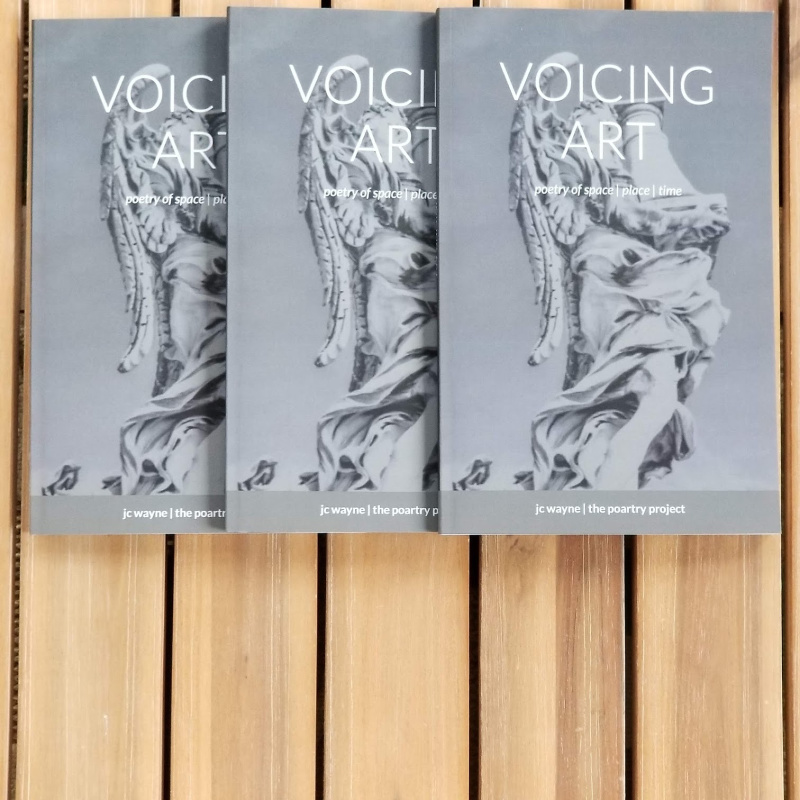 Subscribe to Our Newsletter
Keep up with all sorts of creative opportunities, events, prompts and news. We won't share your data – ever.