November 2012 Words + Art Reading + Poem
exhibit | salon of beauty
artist | ana serrano
POEM | LA (nov 2012)
life springs where it can –
my first trip to LA from san fran to work with blue shield/blue cross of california,
we took a wrong turn out of
LAX airport
+ ended up in south central, stardate 1993
at high noon –
war zone –
alien territory –
danger –
cross-fire –
dagger-throwing eyes sizing up
the car + ignorant skin tone –
among barbed wire –
barred windows –
broken glass –
dirty newspapers
kicking down the curb
in indolent hot winds –
braid shops –
wig shops –
wing shops –
thunderbird –
danger! danger!
tension! tension!
taut! taut!
coiled muscles!
tyger, tyger, burning dark!
smoldering dark till the tires melt
+ we sink into quicksand pavement,
through a glass darkly –
swallowed whole by LA.
emerging out the other side –
surreal –
bizarre –
movie-set false ocean
where you cannot swim
tinseling the hollow souls –
mascot oj simpson,
i watch on my playa del rey tv,
as the police-terrorists chase hollow LA in the body of simpson,
as the white bronco streaks
on screen,
it streaks outside my window
towards marina del rey
with the biting helicopters
we see every night
eating chunks out of darkness
with screamingblindingtorture lights.
there is no quiet in this place.
peace, where do you live?
not here,
where the stepford zombie life
leaves real + beauty only in the undertowing violence of south central –
playing chicken one day
+ russian roulette the next,
turning reality on its head,
wreaking havoc with our souls.
Our Debut Voicing Art Book
Voicing Art: Poetry of Space | Place | Time
is now available!
Poetry inspired by works of art, the art of nature and the exploration of beauty, perception and insight through the cartography of the unseen.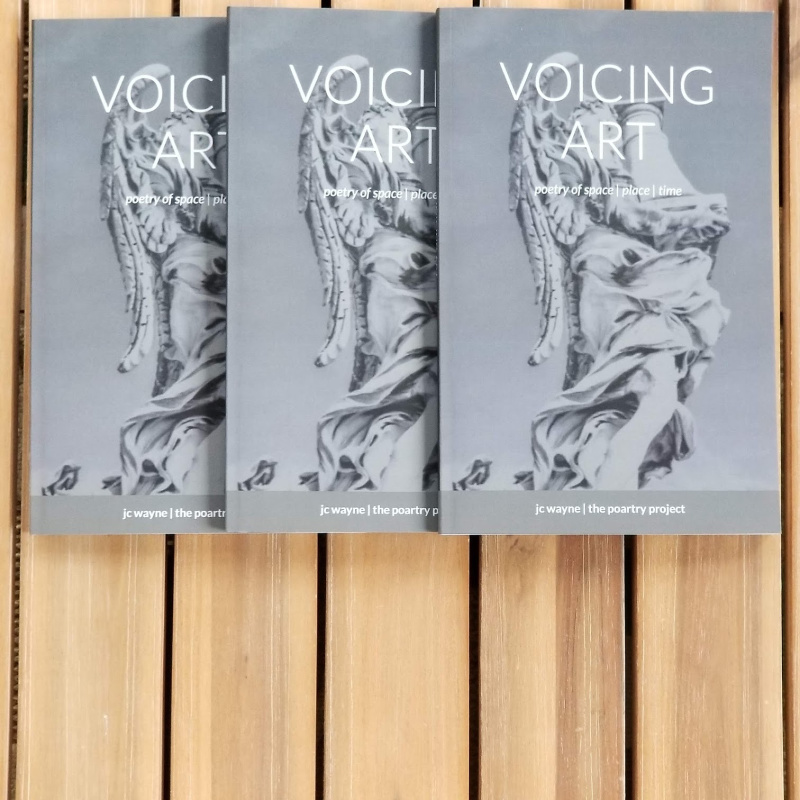 Subscribe to Our Newsletter
Keep up with all sorts of creative opportunities, events, prompts and news. We won't share your data – ever.