June 2019 Words + Art Reading + Poem
exhibit | twilight epiphany skyspace
artist | james turrell
POEM | MAGNETRON (jun 2019)
I've been with you
since before you existed.
You rose from nothing –
or actually something –
that came before.
Waiting till after 11 pm
to escape the smothering fug,
I ran through your future self,
dripping substance
through my sweat
to the burnt-toast fugue
of fertilizer factories
fanning fumes.
My weight
landing in molted mounds
as one day,
the field's flank
on the route of my run
rose ripped prone in the dark
with the clods of sod
piling into a modern Mayan mountain
of sky, bleeding memories of music.
I went away for fresh air
and a baptism by fire
in the desert forests
of Dripping Springs,
where the waters chose
to absent themselves in my presence,
and the flames ate into the blank space
left behind.
But I arced forward and around,
and you were complete.
The altar of a new sacrifice
soaked through the soil,
and weight,
and fumes
shot into the ether overhead –
light as mist,
ponderous as poison.
Life to the baptized
who have gone away,
to burn in return
with the story etched of stars.
Our Debut Voicing Art Book
Voicing Art: Poetry of Space | Place | Time
is now available!
Poetry inspired by works of art, the art of nature and the exploration of beauty, perception and insight through the cartography of the unseen.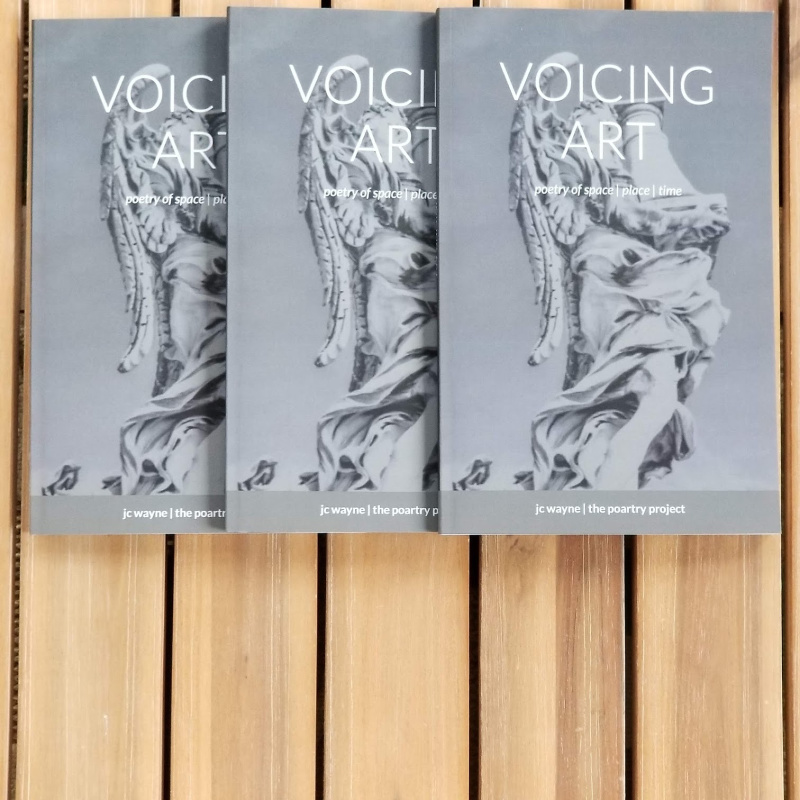 Subscribe to Our Newsletter
Keep up with all sorts of creative opportunities, events, prompts and news. We won't share your data – ever.