February 2020 Words + Art Reading + Poem
exhibit | american rhapsody
artist | garrett bradley
POEM | ALONE: HOW WE COME TO BEING (feb 2020)
0 | STRIPES: UNIFORM > LIFE STUDY: FEET
     I am reduced to nothing
     But plastic wrapped around my ankles
     Shuffling from one box on wheels
     to another box on pavement
     to eliminate – where does the waste
     of what they think I am
     go?
1 | CONCRETE: RIBBONS > SELF-PORTRAIT: BIRD'S EYE VIEW
     I lift and am in movement
     white ribbons uncurling in
     the interstate of my beauty
     in my dreaming state
     as the dance of cars carves my body
2 | GAUZE: VEIL > STILL LIFE IN SILENT WHITE
     But then I awake
     and I need a dress and veil
     to feel beautiful
     I will marry myself to a caged bird
     and still myself in silence
     simply to have the dress
     to feel that I exist and am seen
3 | PLAID: SACK DRESS > PORTRAIT OF ANGER IN BLACK
     Then I dress as a punching bag
     and the rage unloosed
     wraps me in seething snakes
     that heave and coil and submerge me
     in poison
4 | CONTEMPLATION: BANDANA > STILL LIFE: HANDS
     I vanquish the snakes
     and wrestle one to encircle my head,
     my serpent to tame
     under the restless forge of my hands in 
     anxious movement to still
5 | EYE CRAYON: PAIN > LIFE STUDY: EYEBROWS
     I draw in what I think I lack,
     missing the formidable being
     looking out of my eyes,
     willing me with flashing sparks
     that go unnoticed
     to realize I am not alone,
     I am enough in myself.
6 | BLACK SATIN: COMFORT > PILLOW TATTOOS
     I try to wrap myself in
     the comfort of flowers and soft things
     curves of pillows mirrored
     in tattooed hands filigreed with
     wedding henna
     with life passing me by while I wait –
     Am I weak, or am I strong?
     Am I implacable in my will because I 
     love who is not loved,
     or stubborn in the not loving of myself?
7 | STRIPES: UNIFORM > PORTRAIT OF ETERNITY
     The cumulous curves of comfort
     transform into black bars of strict decree,
     and you are never free –
     reduced to the uniform
     placed upon you
     that says you are nothing.
ENDNOTE > GRISAILLE: HIDDEN LANDSCAPE
     Behind the screen
     after many years,
     you encounter your beauty.
     This is not recorded,
     but it does not need to be,
     for it is yours,
     and yours
     alone.
Our Debut Voicing Art Book
Voicing Art: Poetry of Space | Place | Time
is now available!
Poetry inspired by works of art, the art of nature and the exploration of beauty, perception and insight through the cartography of the unseen.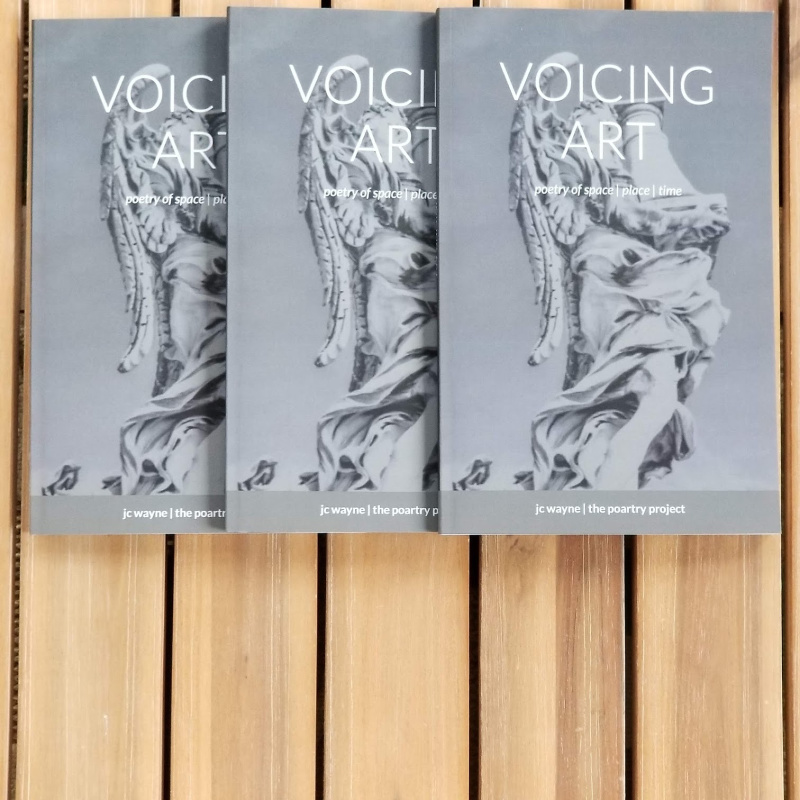 Subscribe to Our Newsletter
Keep up with all sorts of creative opportunities, events, prompts and news. We won't share your data – ever.