August 2016 Words + Art Reading + Poem
exhibit | crosstown traffic
artist | michael de feo
POEM | THE BREATH OF THE CITY (aug 2016)
I'm in LA, and it always amazes me how many writings over the years have either happened or been inspired here – contrary to what I ever expected.
I like LA. I like its youthfulness, its exuberance, its sense of fantasy, its imagination.
I like seeing film crews out and about, spinning the glittery foil that fuels our flights of fantasy into magic worlds of escape or elevation.
I like the hope in LA. It's similar to NYC, but more innocent in vibe. People land in NYC with the ambition of taking it on, of not being swallowed by its grit and of becoming one with its power. People land in LA to merge with her embrace and the kiss of her sun.
Both cities display their underbellies: NYC with muscular or ironic male swagger; LA with tattooed mama-grrl power "so-whatta-u-gonna-do-about-it?" insouciance. Many strivers have gone to dust in NYC, ground against the hard stone of its streets. Many angels have fallen under the bridge in LA.
But LA always gets me thinking about costumes and masks. (Actually, so does Williamsburg, BKL these days, and I like Wiiliamsburg, too.) Maybe it's because I didn't grow up here, but the tinsel of Tinsel Town sometimes seems a little thin over the glossy beauty, and I wonder if in the embrace of hope, people end up happy.
In NYC, they don't seem to be vibing to the beat of happy; they seem to jack into that mirage on the horizon of the Atlantic to get energized, to imbibe of its tight spring.
Cliches are light on substance, but their nugget of truth remains. LA is artfully arrayed by the pool in a bikini that shows the tattoos off just right and is out on the town, breathing in slow, deep lungfuls of the fantasy drug. NYC is running in the rain in a sweaty sweatshirt, pounding the pavement to hear itself run and breathing out its triumphant roar.
In the breath of the Two, the beat of the One can be found.
Our Debut Voicing Art Book
Voicing Art: Poetry of Space | Place | Time
is now available!
Poetry inspired by works of art, the art of nature and the exploration of beauty, perception and insight through the cartography of the unseen.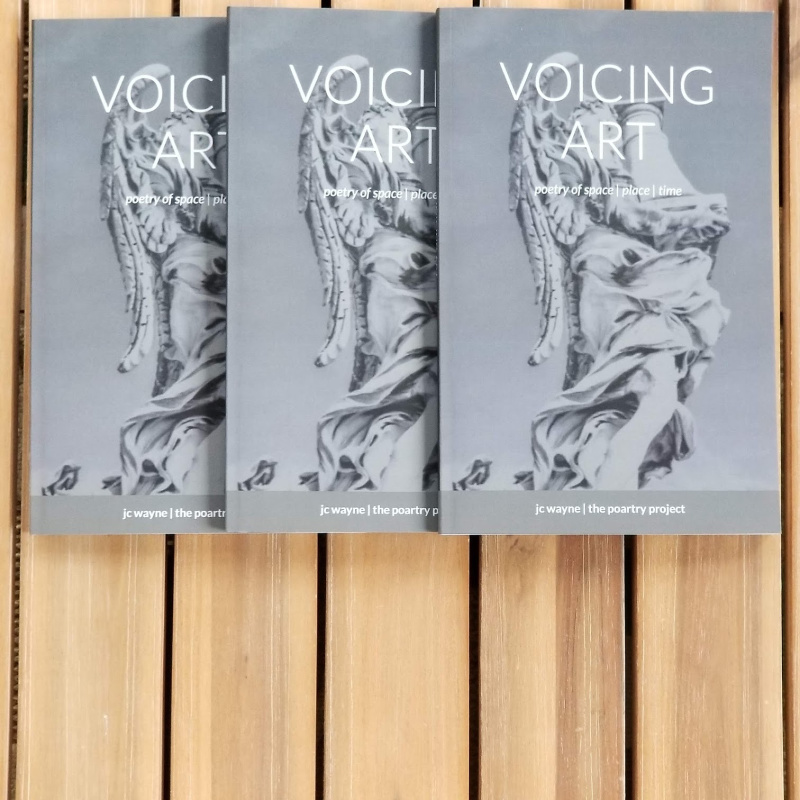 Subscribe to Our Newsletter
Keep up with all sorts of creative opportunities, events, prompts and news. We won't share your data – ever.