revealing and connecting the worlds of the unseen and the seen
The Poartry Project considers art to be poetry in visual form. As a visual artist, I create both current and futuristic art that reveals, relates and unites the worlds of the seen and the unseen to connect the dots of what unifies us all and to point the way to our shared noble destiny as stewards of a harmonized world. My "Art of the Seen" works in traditional art-making materials to represent physical forms of the natural world with the dynamic living energy of the form shining through via the movement of paint laid on by hand. Poetry is the medium of magic, the sails of the sacred and the wings for wonder, wisdom and imagination. My Art of the Seen makes visual the adventure of making magic, setting sail and taking flight with the poetry of nature. See father below for my Art of the Unseen and Golden Threads of Good Books Art.
MY APPROACH + PROCESS
As a child, my senses were always acute, especially my eyesight. My vision was exceptionally keen in the dark; things were as clear and visible to me in the night as during the day, and the shadows only seemed to reveal the light even more. When I looked at the sky over the ocean, I could see little round particles dancing in the air. When I closed my eyes to go sleep, I saw intensely beautiful swirling colors in the region of my brow. I thought everyone did.
In my early 30s, I discovered meditative practices, and my senses became even more acute. I began to see what looked like shimmers, pathways and centers of energy in everything – like having x-ray vision. I could accurately see the inner anatomy of people, animals, plants and minerals within the form, and I found myself able to perceive very specifically when and where people and animals were sick or injured in their bodies. Through my natural abilities and training, what I could see beyond the form became more and more complex, beautiful and macrocosmic – vast architectures of elegant geometry telling a much deeper story than what is visible to the naked eye.
My creative process and intention for each piece of art I create is unique and applies the energy science and art of impression: With my faculties beyond the physical senses, I tune in with, perceive and make visual what I register as the substance, form, structure and essence beyond the physical form. As I share this new territory of the "world beyond the form", new golden threads of good are woven in the consciousness of the perceiver interacting with the art, creating opportunities to connect with and understand deeper aspects and wider dimensions of themselves and the world in new ways.
My "Art of the Unseen" is a pioneering creative field of magical discovery and revealing. Often digital because I find this medium lends itself more naturally to making subtle multidimensional energies visible through a process of discovery with the various tools in the software I use, the Art of the Unseen shares schematics of the elegant structures I perceive beyond physical forms. It is truly a magical world of extraordinary beauty, like looking through a microscope, telescope and kaleidoscope – often simultaneously. The energies and forces depicted in the Art of the Unseen shape our inner and outer physical, emotional, mental, psychological, communal and spiritual worlds and experiences. From people to music to cities to planets, all is energy, composed of energy. When you can see the soaring energetic palace of Bach's music, the world is truly magical. When the true beauty that is humanity is made visible, it is easier to love and cherish all people with awe. The image accompanying this text is a top view of humanity as I perceive it. What a different perspective and different access this beautiful image provides for understanding who we really are collectively, traveling through the universe on this home planet together. The world of energies is the next frontier of our world commons to discover what we are really capable of, to encounter the shared universal story of our unfolding enlightenment as energetic beings, and to perceive and enact the real and lasting solutions to the personal, societal and global challenges of our times. When we wake up to and become adept in the world of energies that we are, we become agents of cause rather than passengers of effects, and reservoirs of true creativity open themselves to us. We begin to shape our reality, and the beauty and goodness lying at the heart of life can find its way into the light.
Golden Threads of Good Books Art
Golden Threads of Good Books are where the worlds of the seen and the unseen meet. Designed to serve as accessible and relatable trekking guides for the young and the young-at-heart, these books weave together the golden threads of good running throughout our shared history and world cultures to serve as a lighted path for those seeking to do good. These golden threads – the universal values that unite us all – are shared as stories of magical adventure, kindness, friendship and community. The "Heroes of the Common Good" who appear in them are children and adults; animals, plants, minerals and devas; towns, cities, planets; and the fantastical worlds of energy as yet mostly unknown, but awaiting discovery by those who are seeking. The child-like and sometimes otherworldly art that accompanies these stories provides doorways to the kind of imagination and free-thinking needed to perceive and respond to the "something more" that makes the heart of humanity so noble and so special in this universe. 
During the initial year of the "coronaverse", I was so fortunate to be able to hone my technical craft and find my artistic voice for the Art of the Seen with several amazing artists – Cynthia Rosen, Sarah Yeoman, Georgeanne Gaffney and Kari Ganoung Ruiz – who have generously taught online classes at Lake Placid Center for the Arts with the tireless support of Tara Palen. This portfolio shares new original works, as well as studies I created during these classes. In many of the early classes, I experimented with whether principles being taught with oil painting as the medium could be executed in watercolor since I started out exploring watercolor as the potential medium to illustrate my Golden Threads of Good Books for Children. In later classes with Cynthia Rosen, I discovered that my magical art wand to enter the world of my true voice is the palette knife. The portfolio is arranged in reverse chronological order to share where I am and how I got here. The trek and trajectory have been nothing short of astounding to me – a testimonial to excellent nurturing teaching artists and a natural ability within that an art teacher at my arts high school convinced me I didn't have.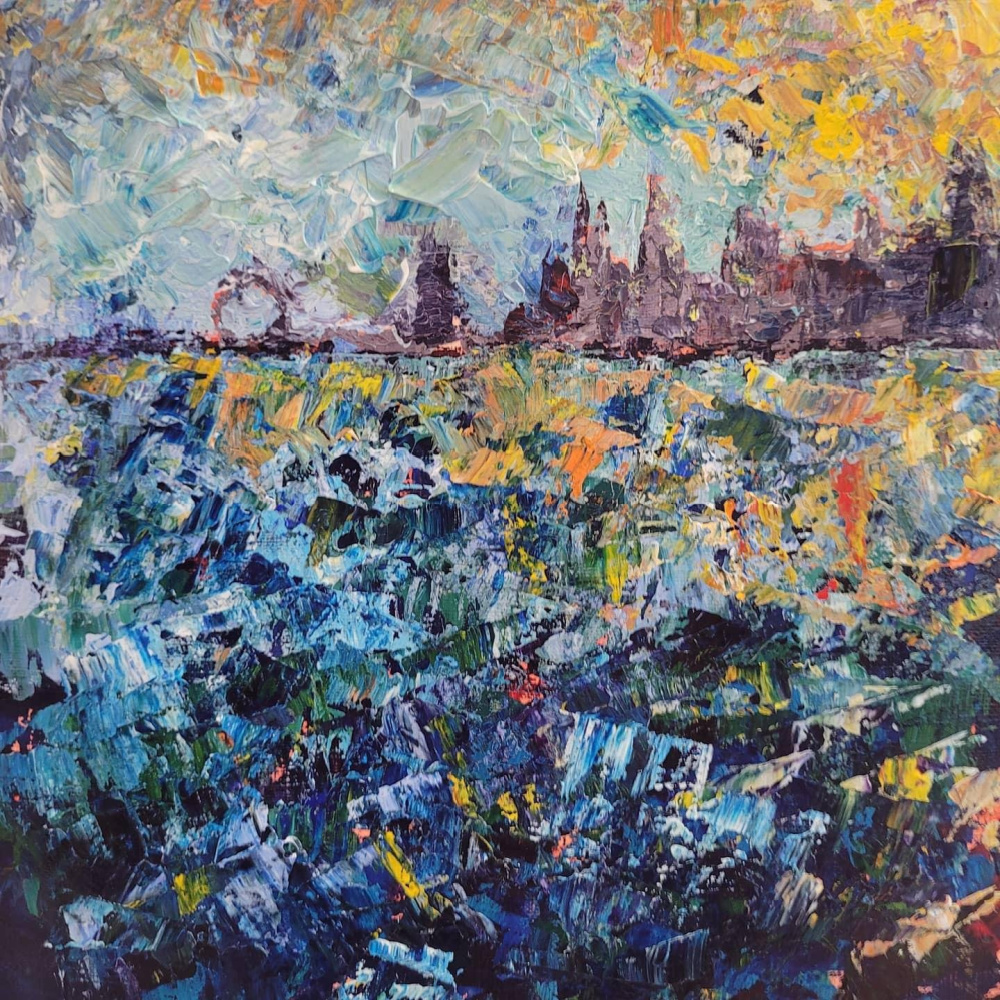 Chicago Portal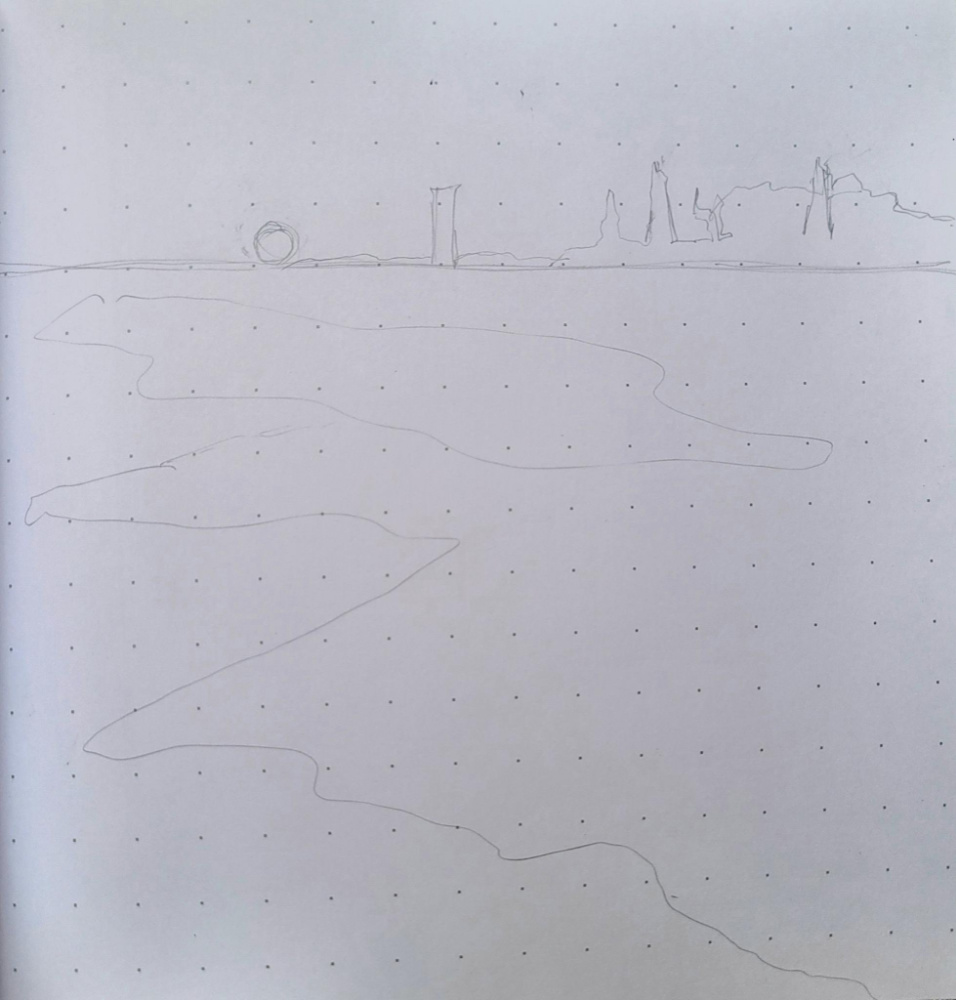 Chicago Portal - Study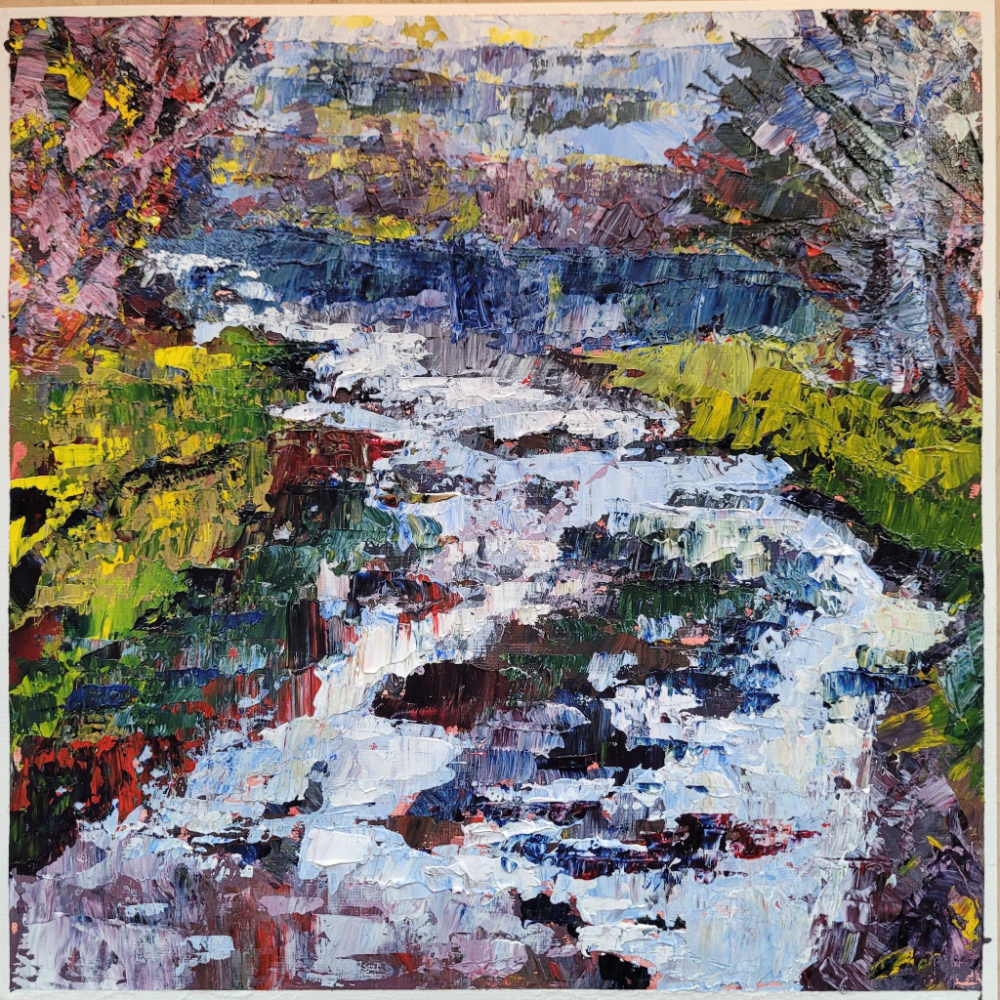 Not What It Seems: Reflective Lane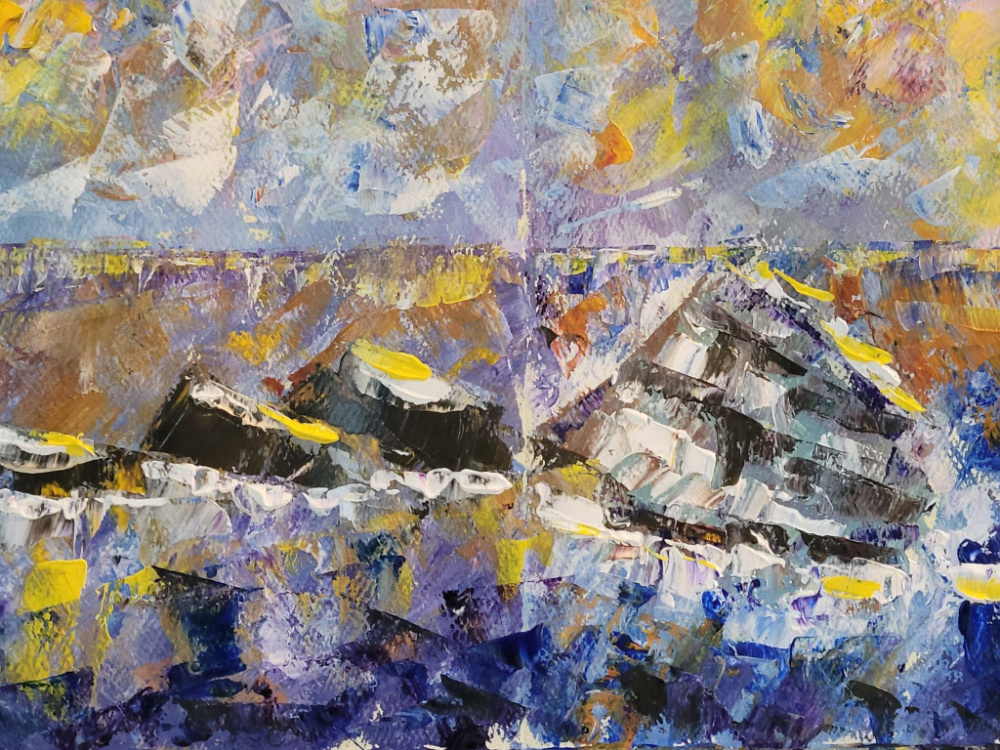 Maine of the Imagination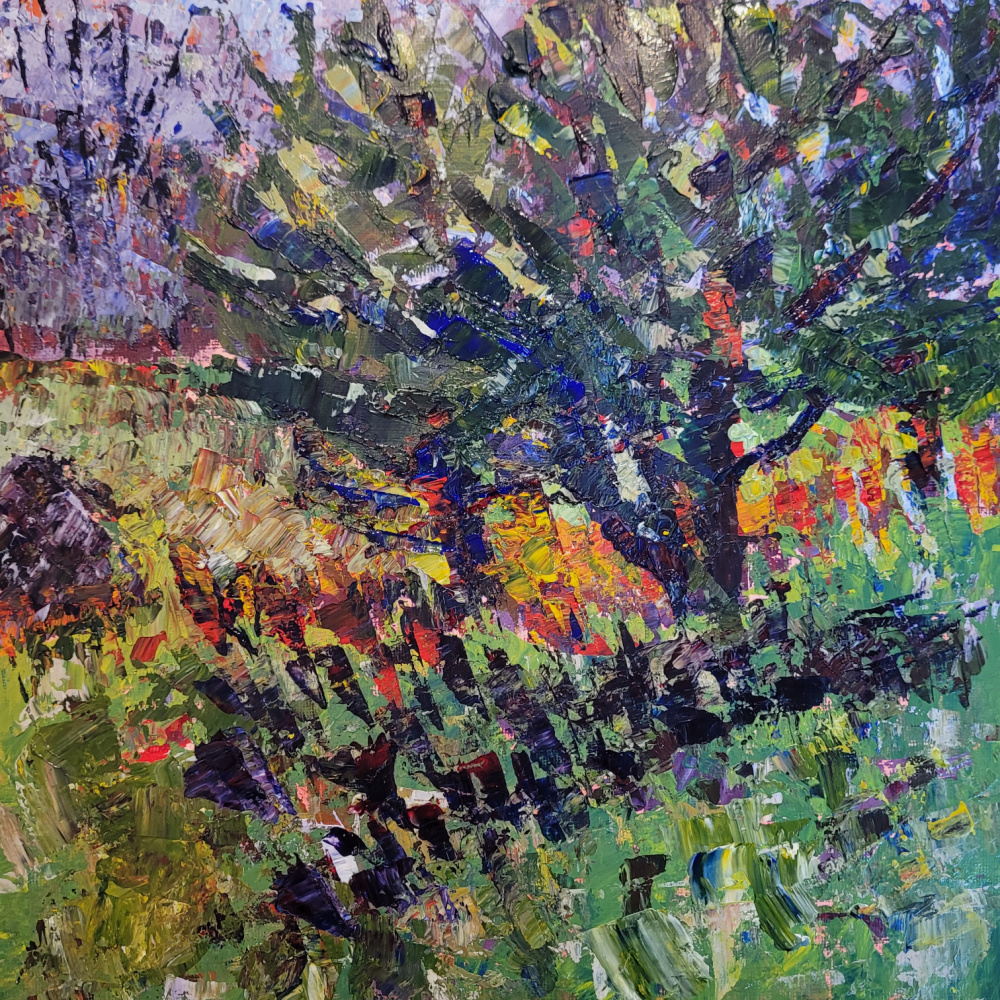 Autumn Field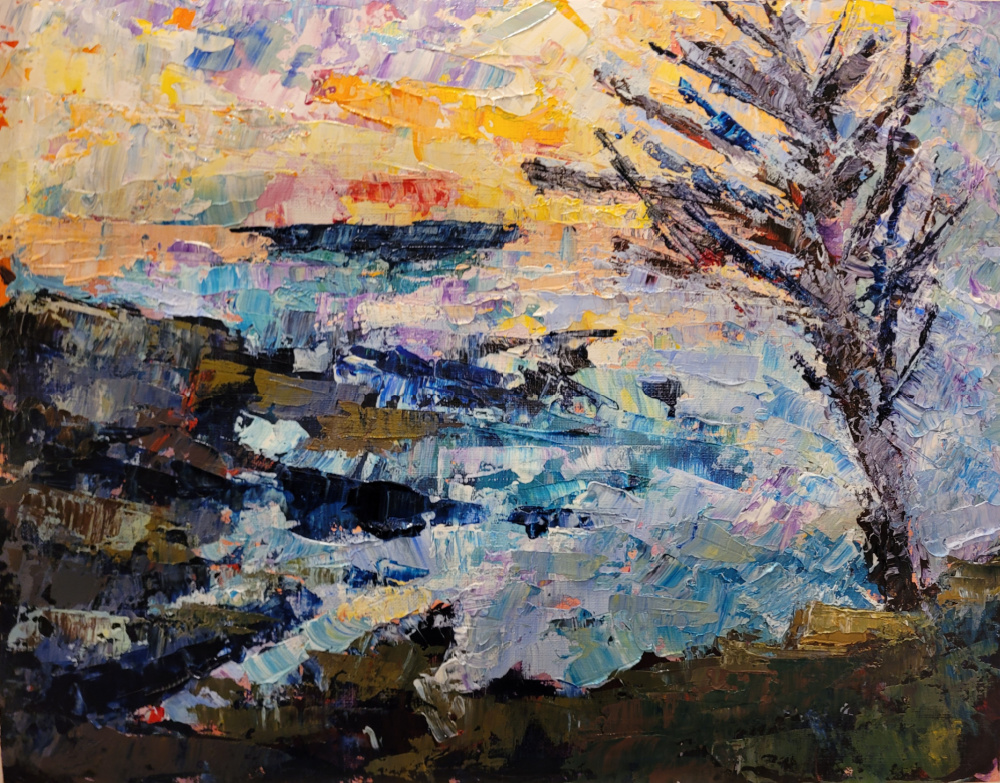 Coastal Sunset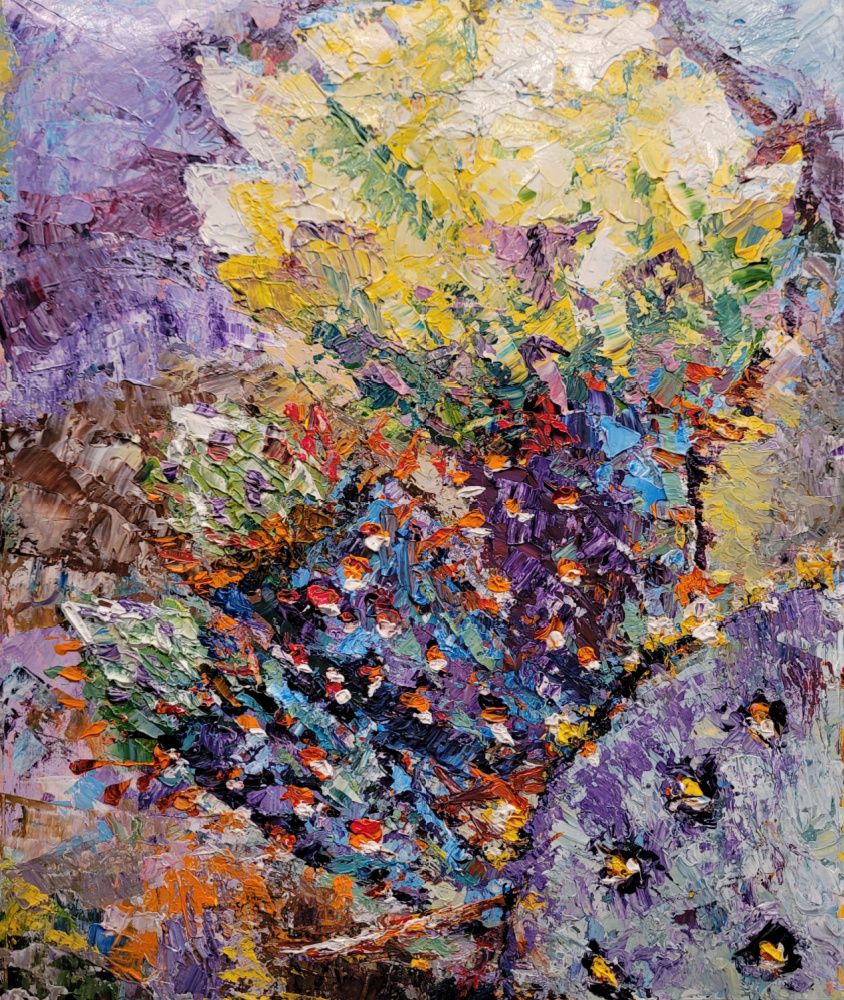 Spiritual Agency Embodied: Prickly Pear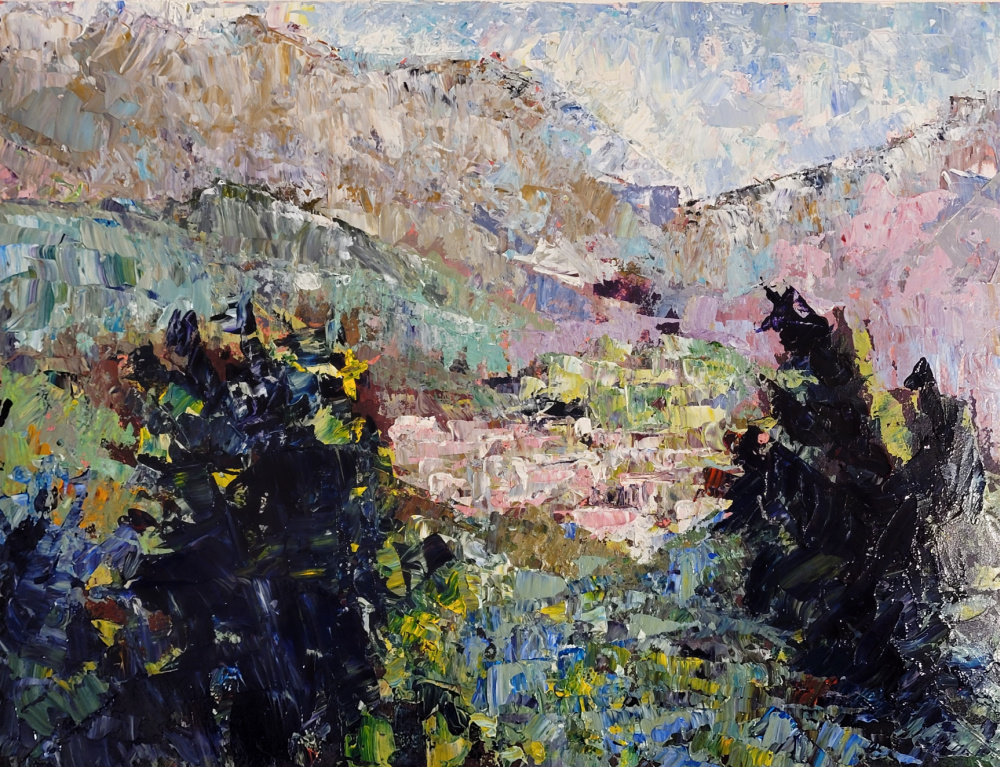 Western Mountains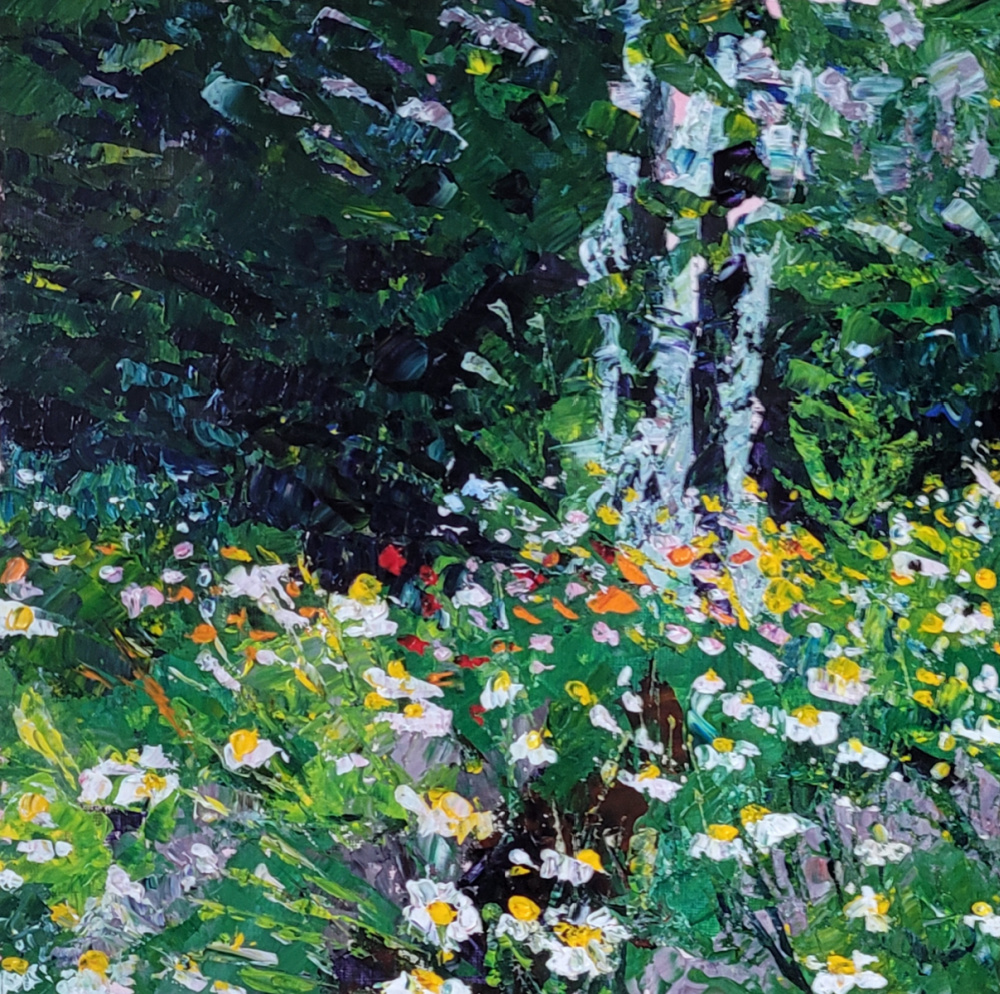 Summer Forest's Edge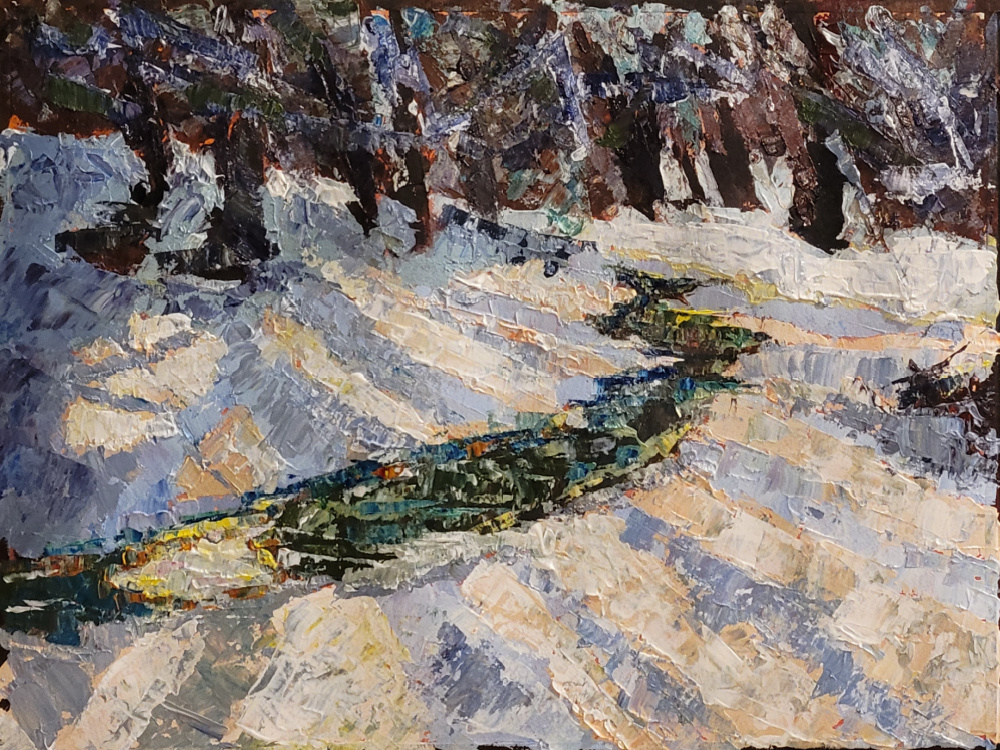 Winter Rays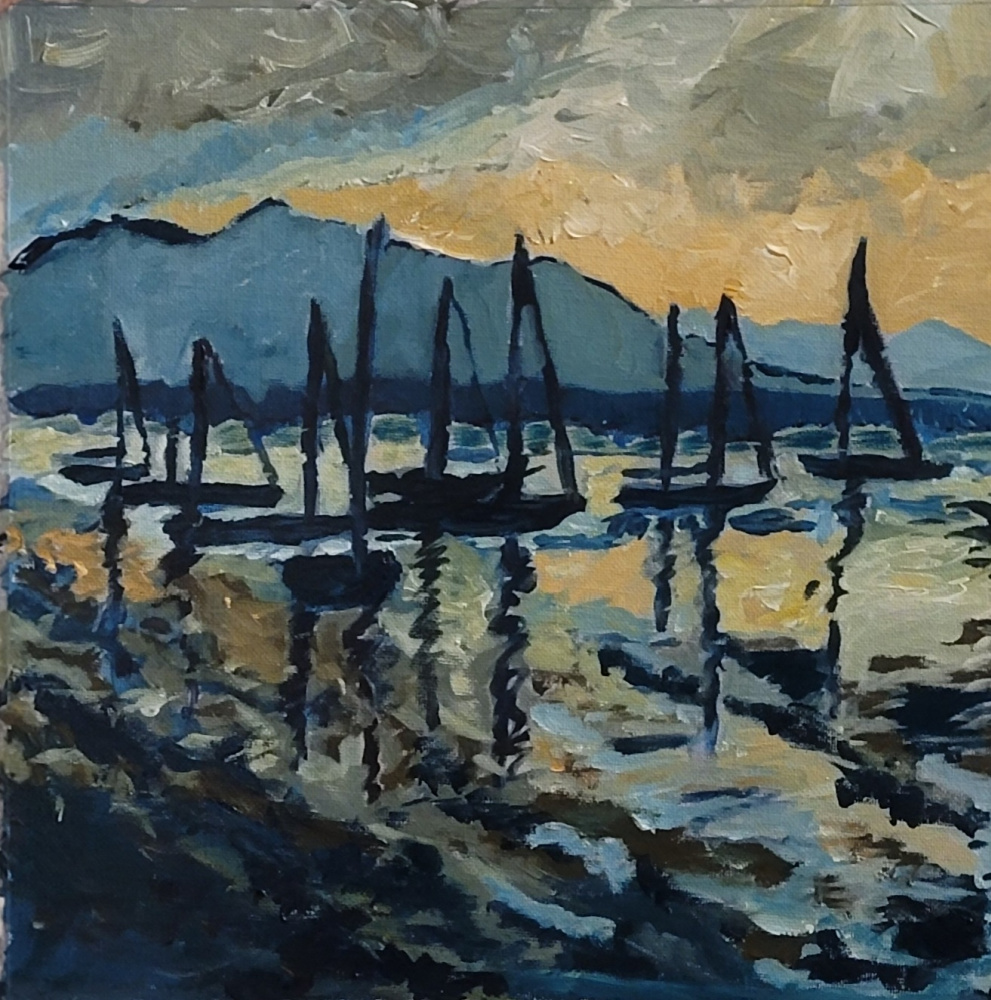 Adirondack View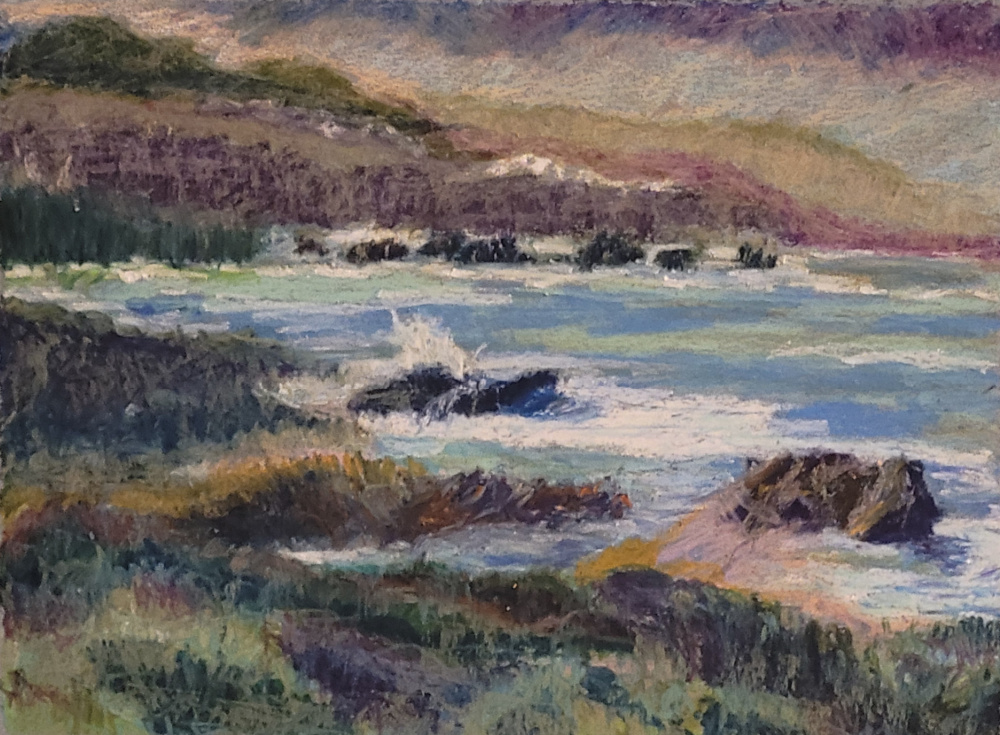 Coastal Pastel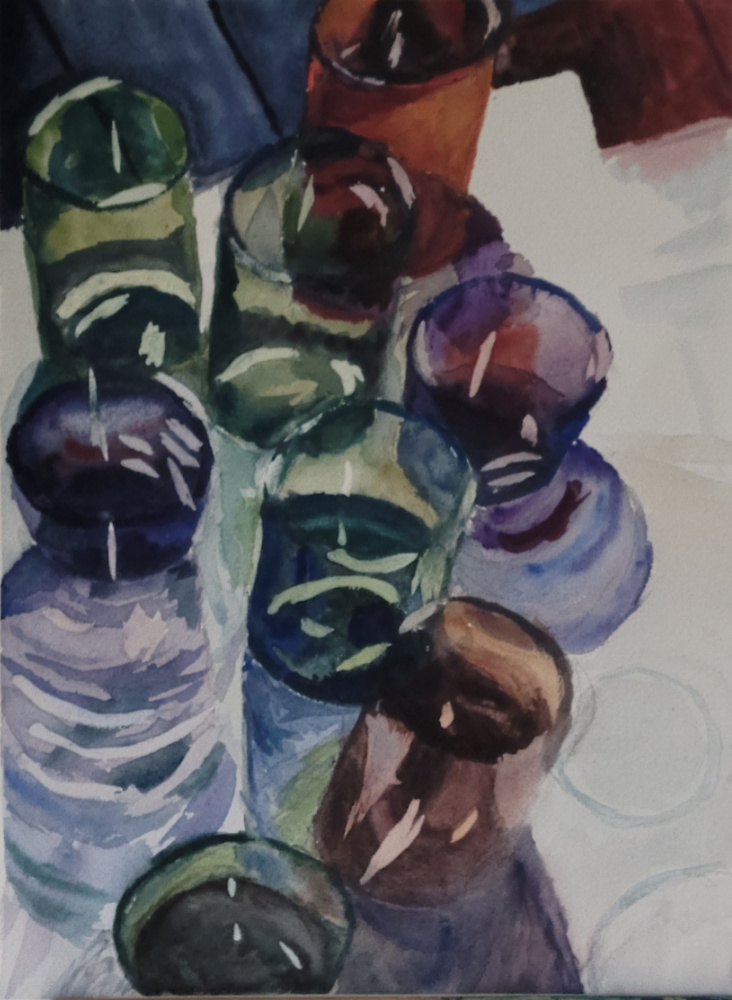 Thinking of the Shakers: Glasses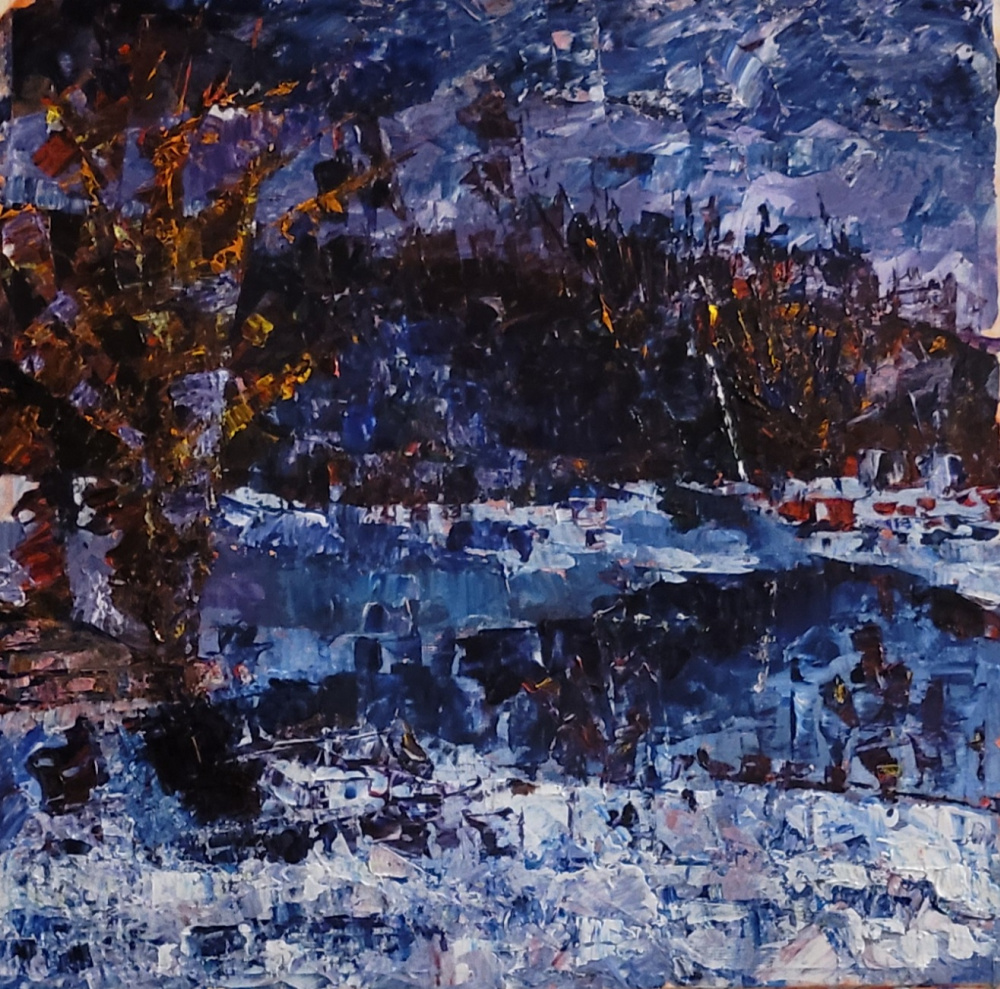 Midnight Clear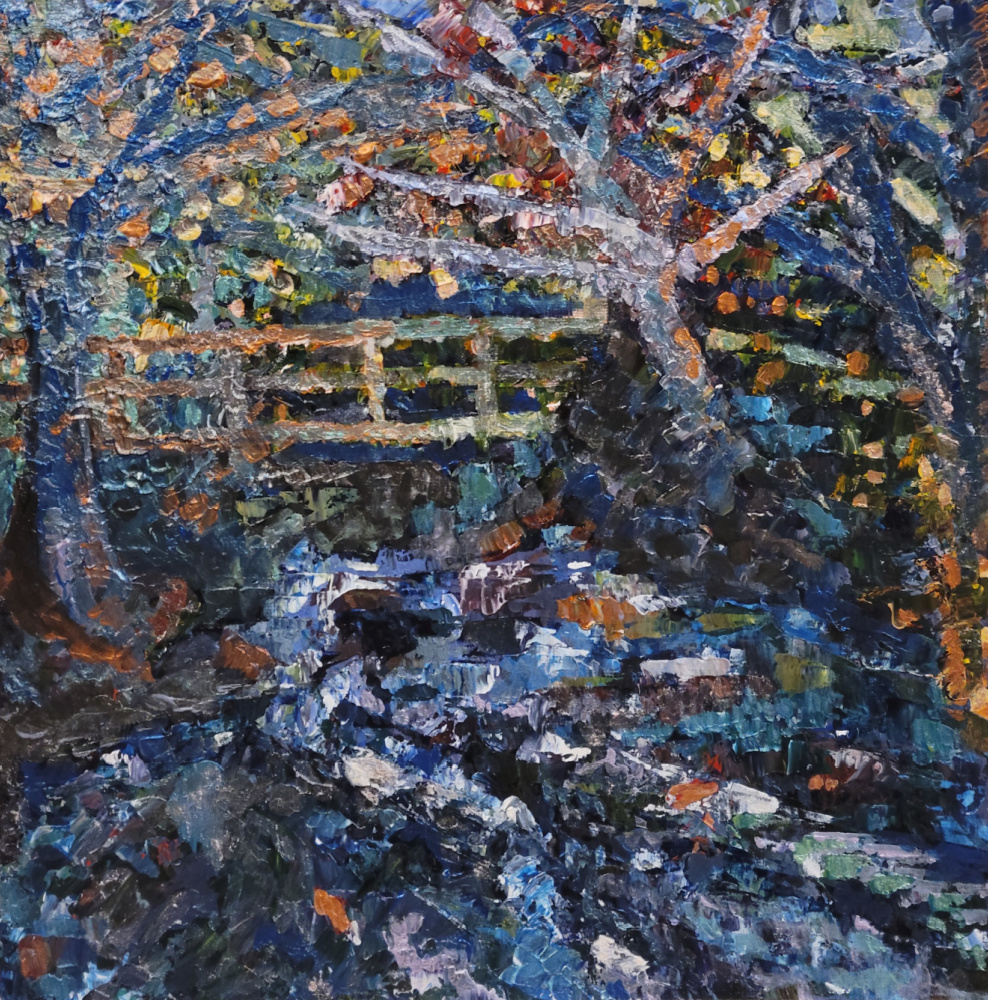 Fairyland Forest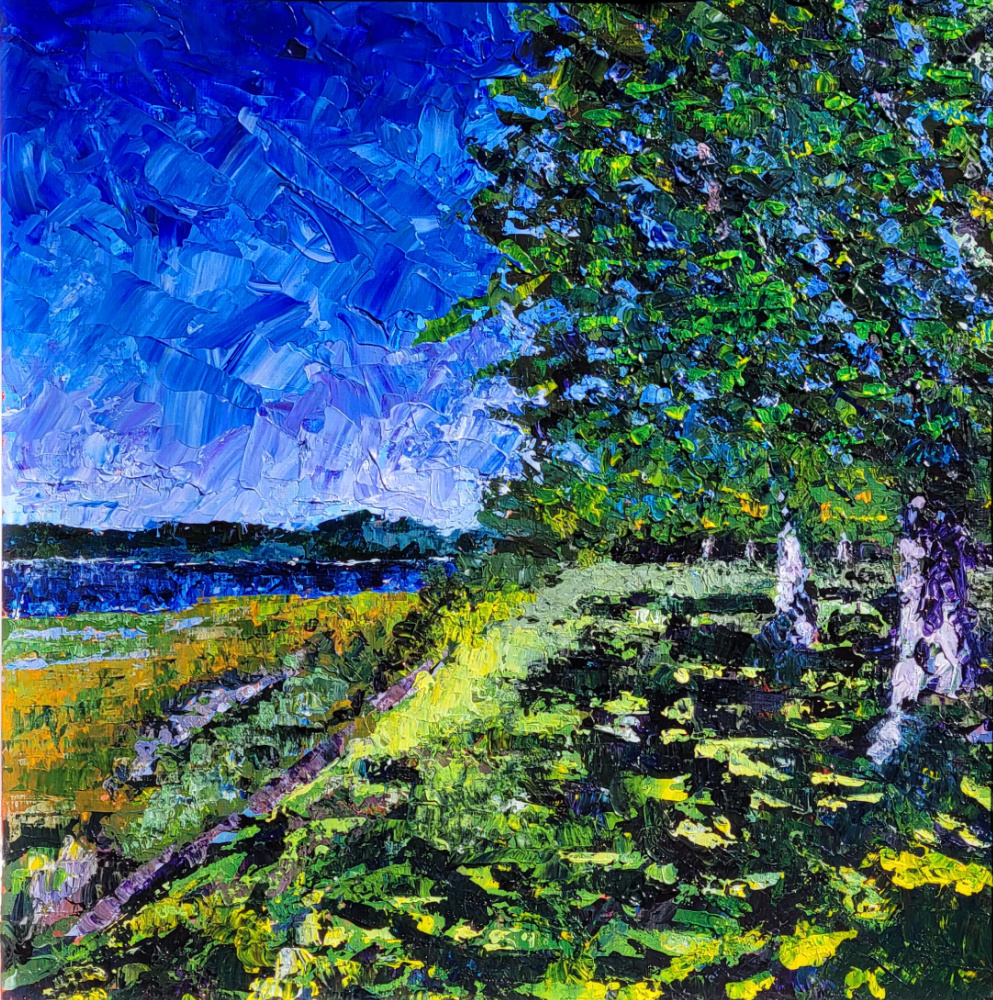 Sandbar State Park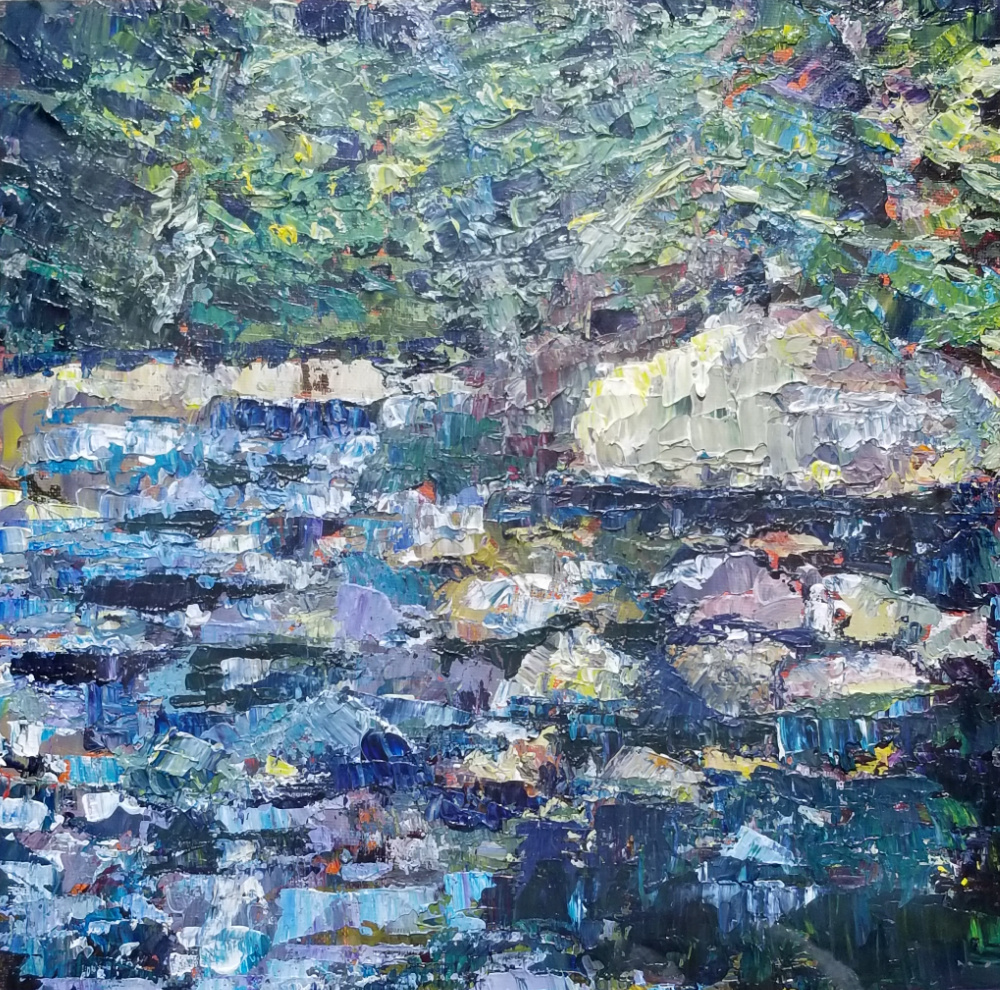 River Rocks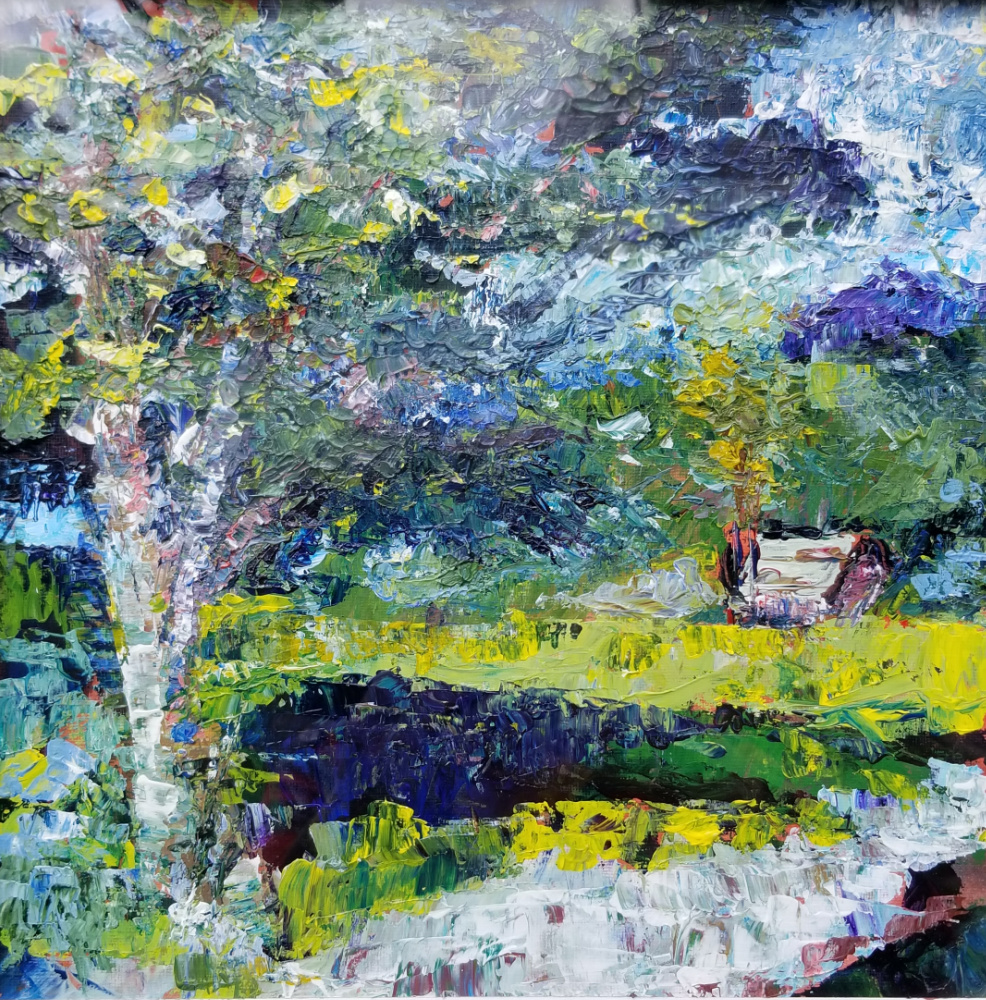 Summer Meadow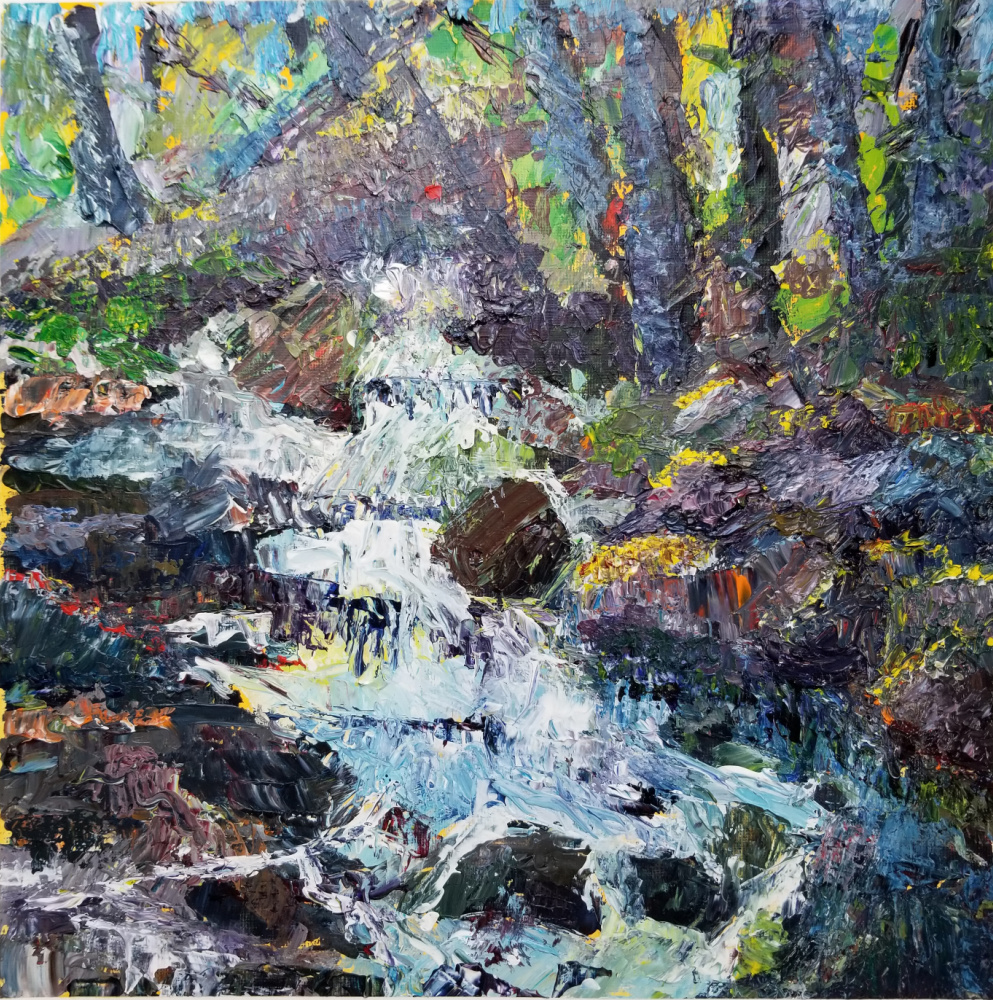 River Whitewater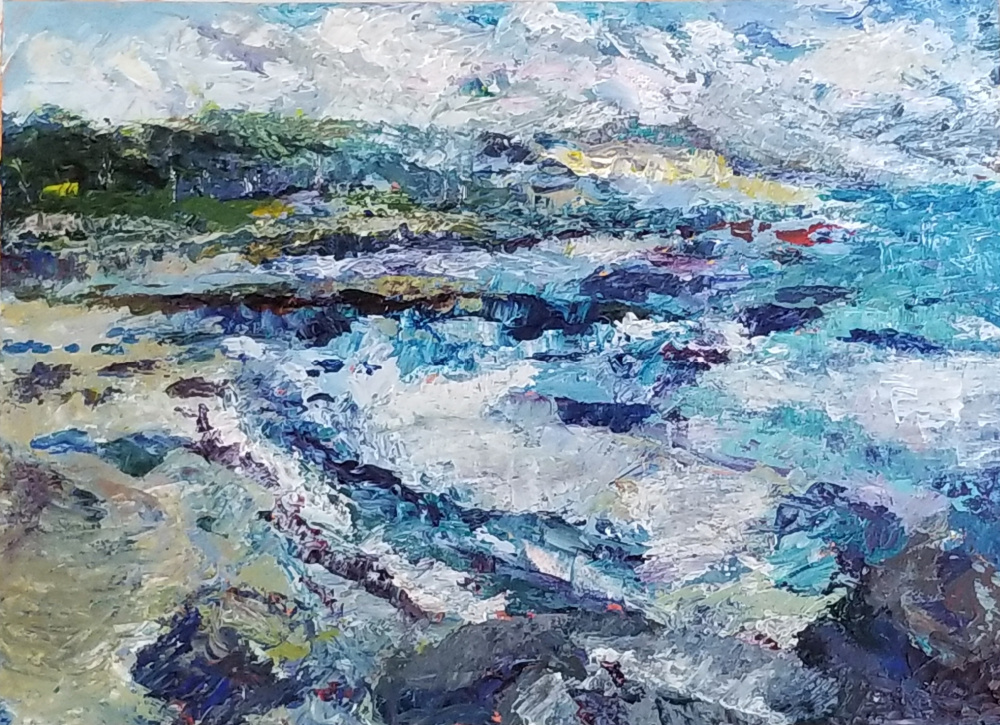 Voice Found: Coastal #1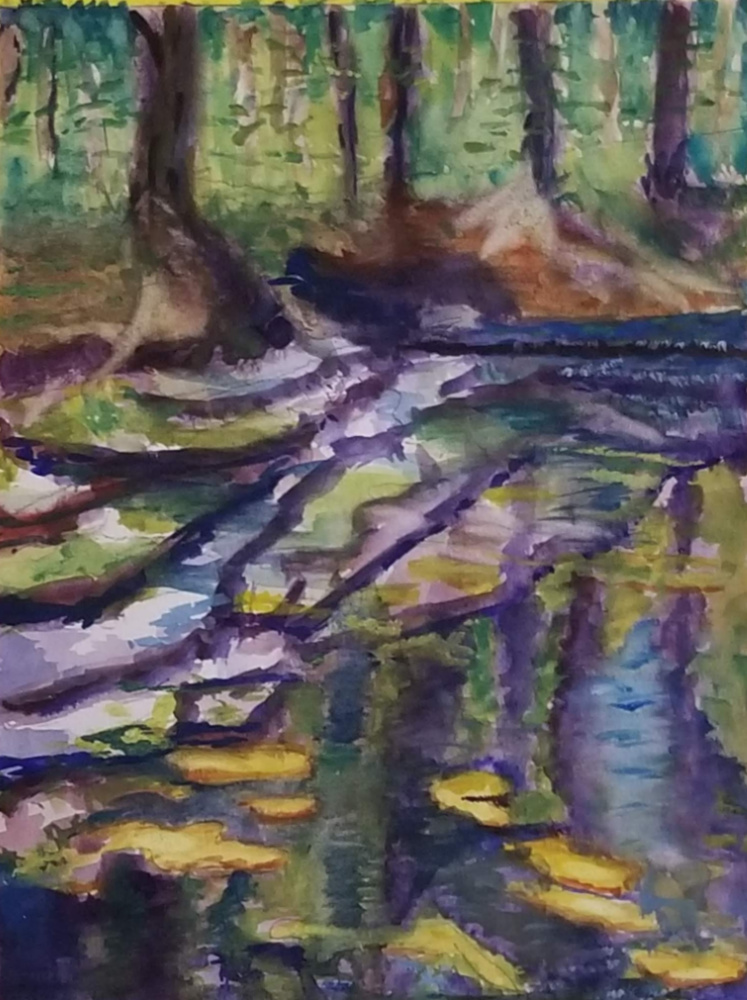 Limestone Reflection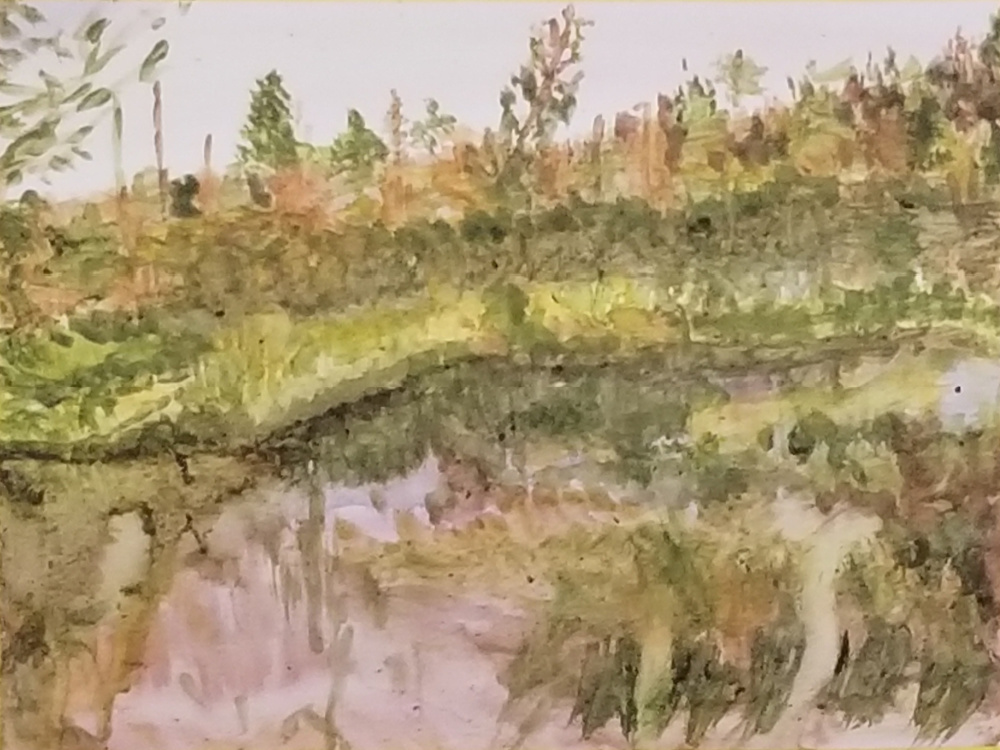 Kitchen Pantry Marsh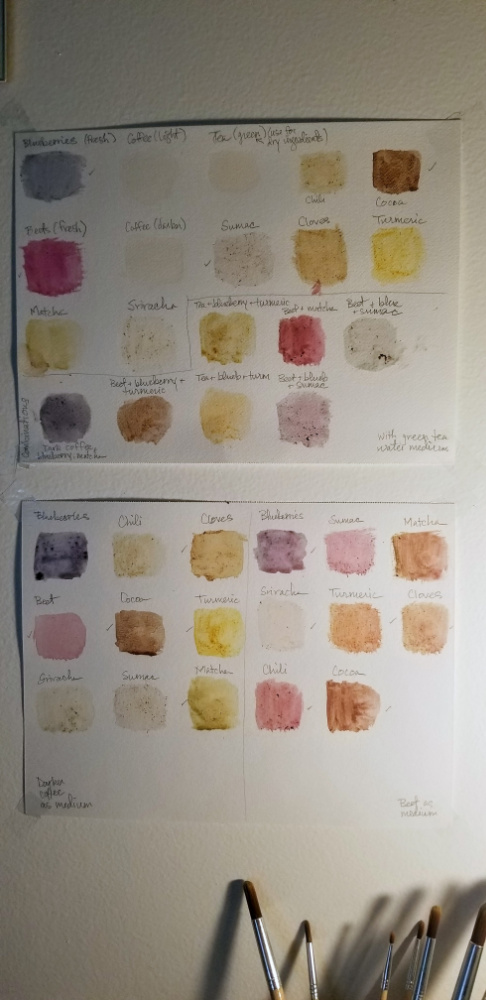 Kitchen Pantry Palette
The preceding painting was created in a class with Georgeanne Gaffney with homemade watercolors using ingredients from the fridge and pantry since it was the earliest days of the pandemic lockdown and art supply stores were closed.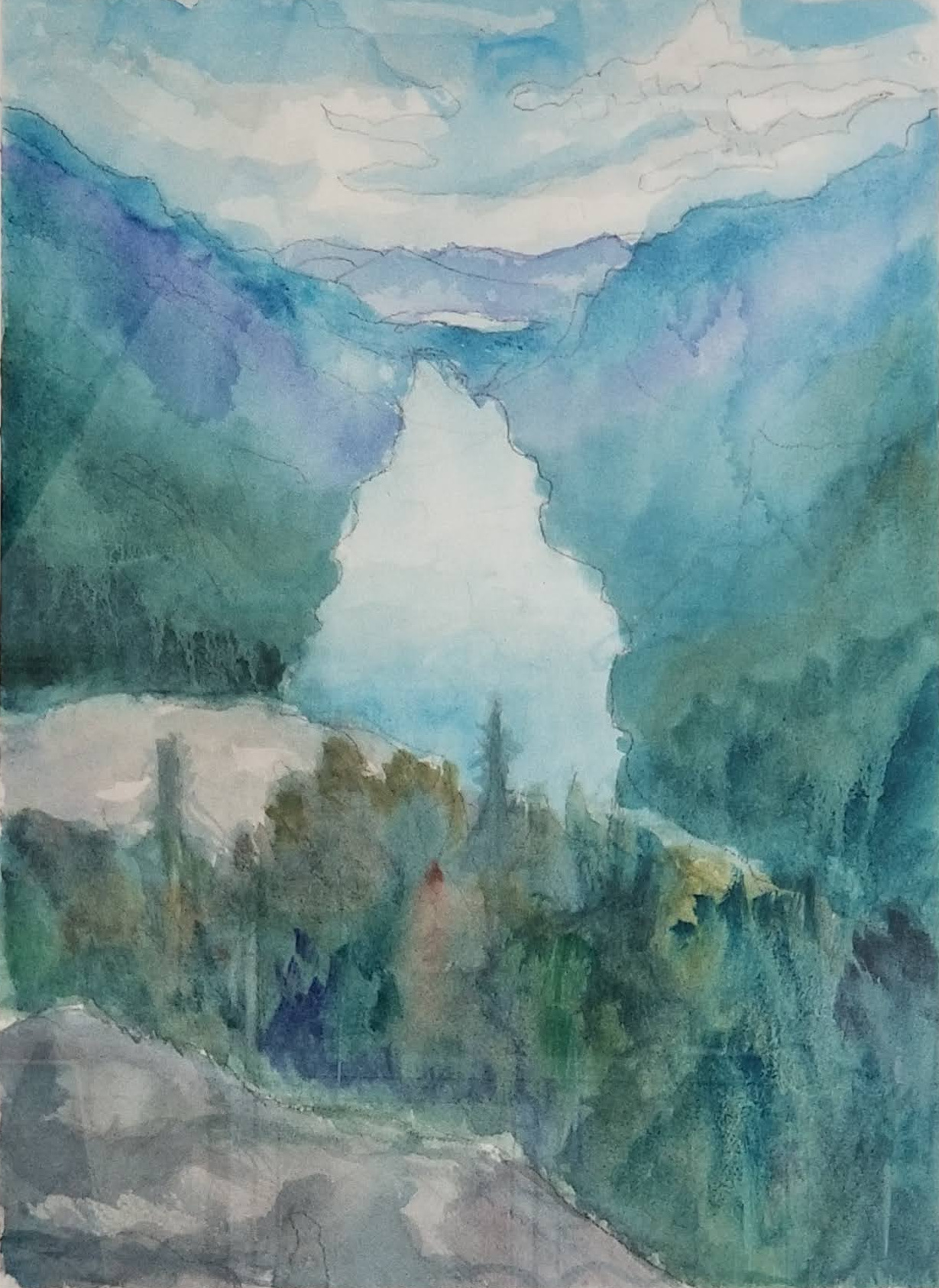 Lake Overlook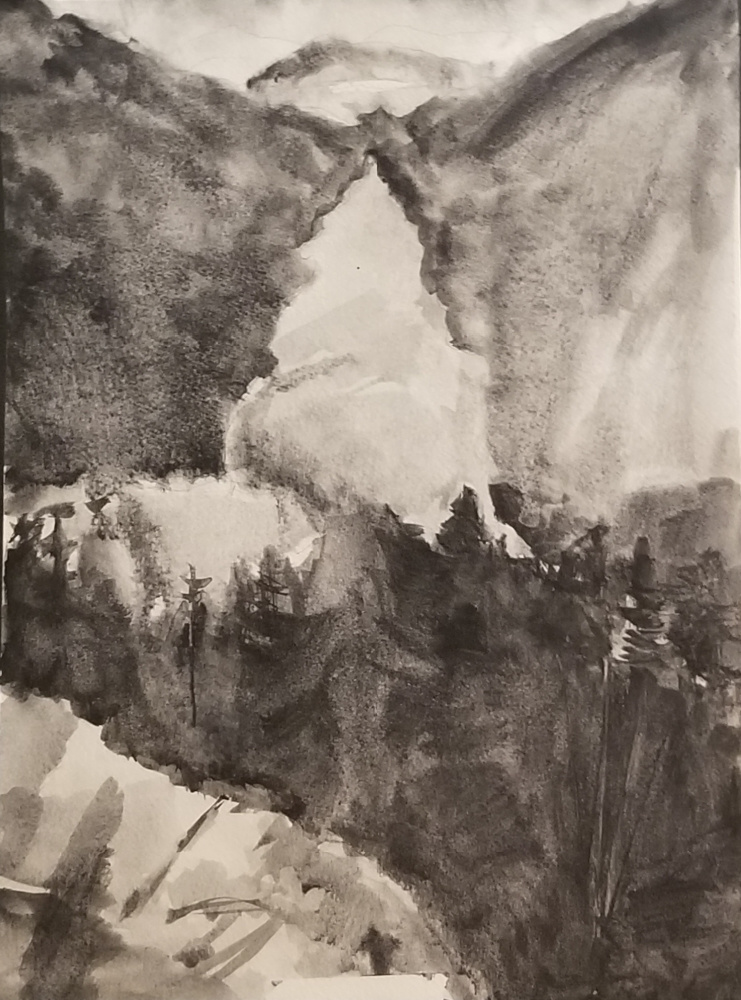 Lake Overlook - Study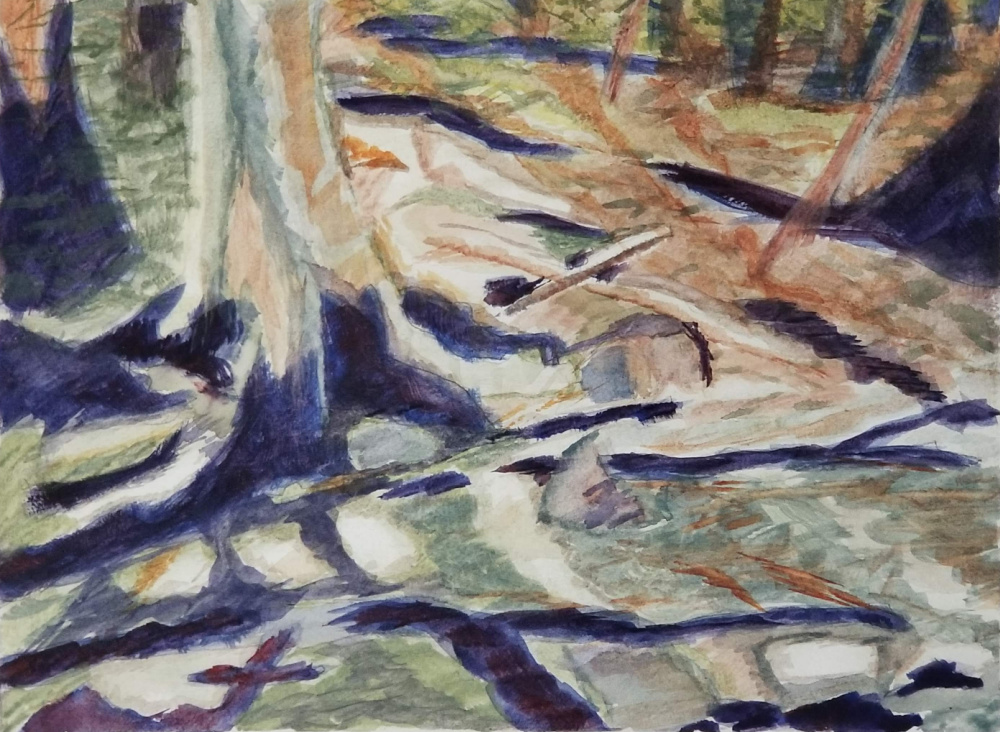 Totoro Notan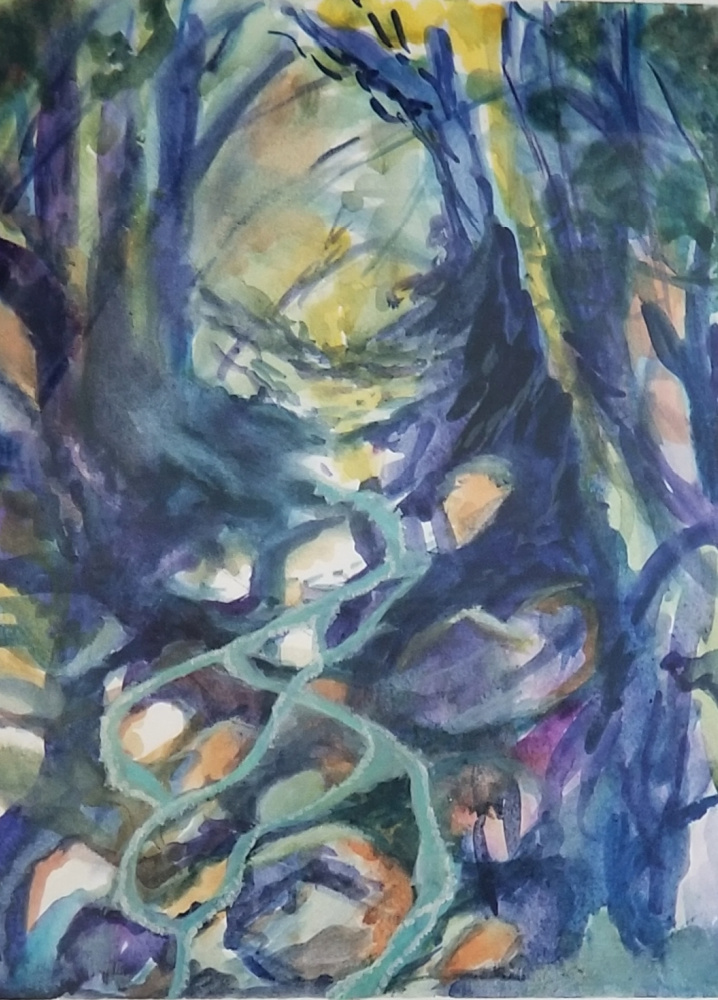 Streaming Arch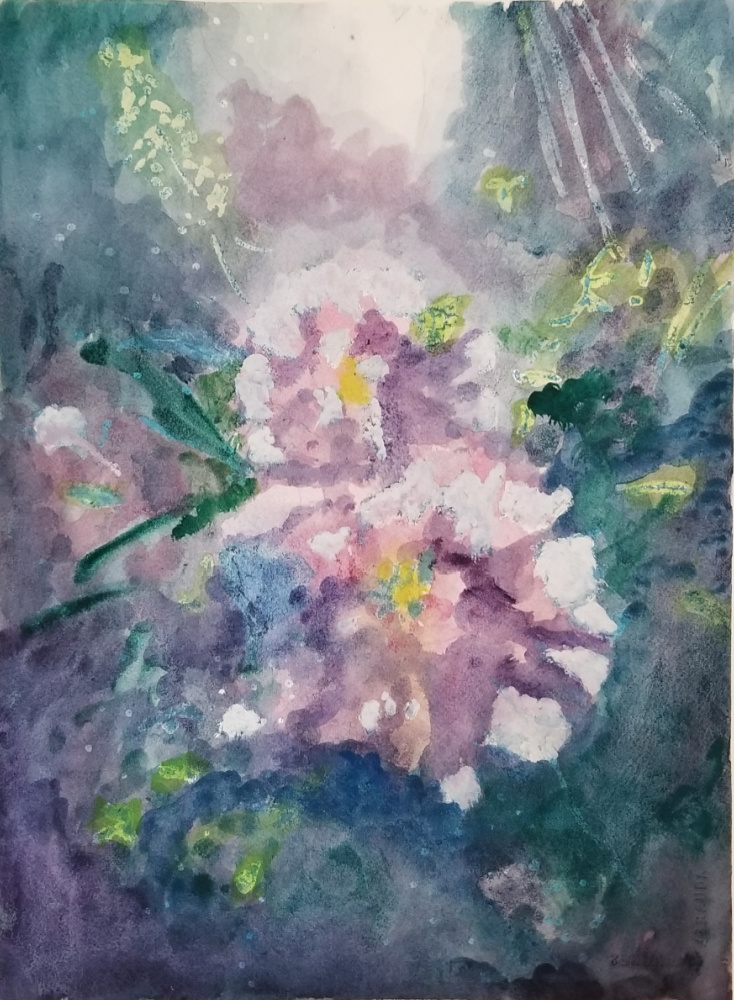 Dream State
In my first-ever experience with masking fluid in a class with Sarah Yeoman, it turned out my masking fluid had expired, wouldn't come off and resulted in a giant blister on my finger. I adapted the best I could during the class and was deeply disappointed with the result since I had been wanting to try masking fluid for several years after I saw something about it online. But people I shared the painting with loved it and found it transported them somewhere ethereal and dream-like. It was a great lesson in letting go of expected outcomes.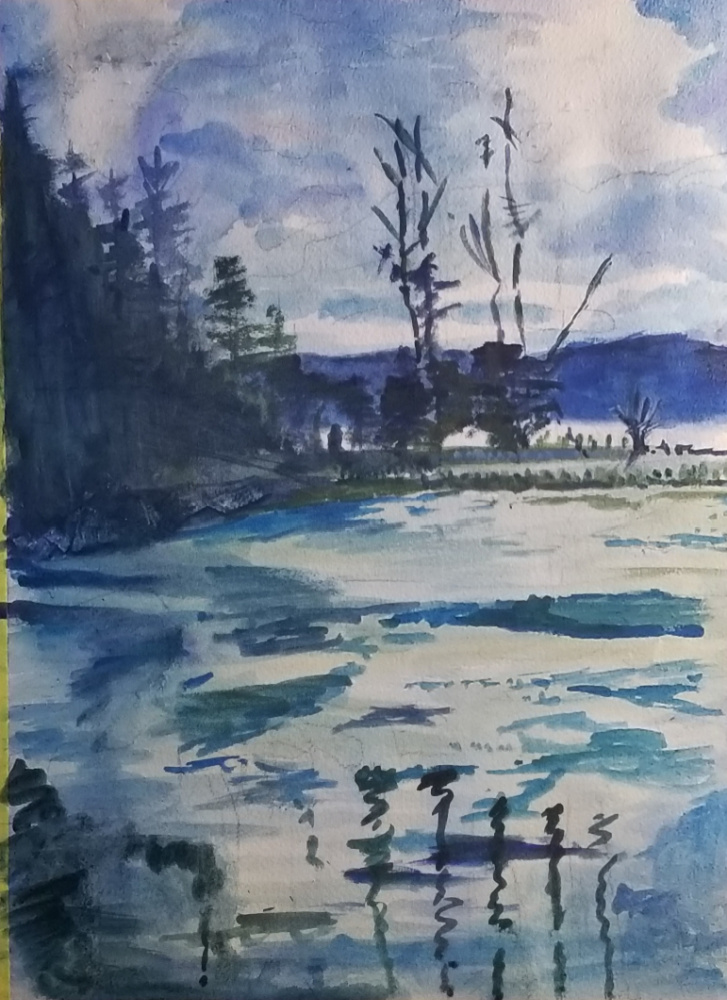 Where It Begins
Gallery: Art of the Unseen
Exploring the energy beyond the seen
It is important to note with the Art of the Unseen that each image is a snapshot in time as perceived by one person. Energy is not fixed, and it changes form, flexes and flows, and evolves constantly. So these images should be considered as partial representations of certain dimensions of energy that I, as the artist and cartographer of the unseen, have selectively chosen to make visible at a particular moment in time.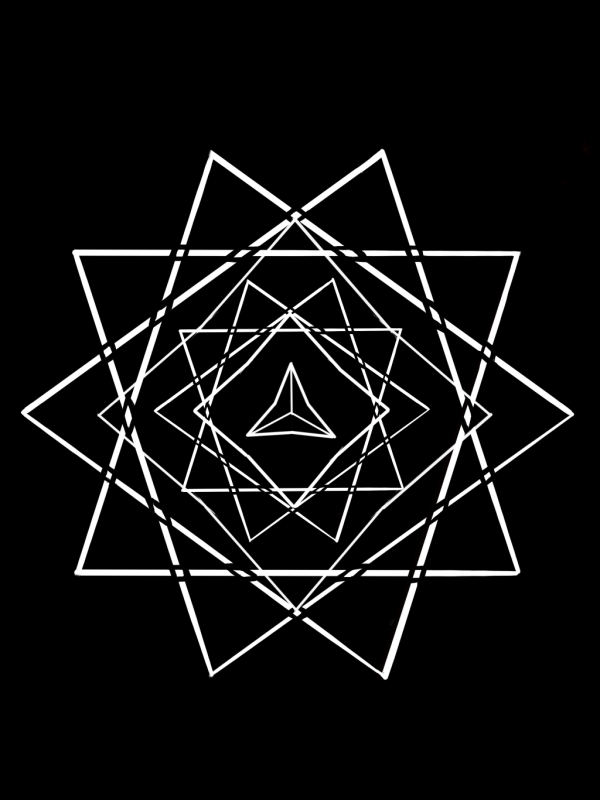 A blueprint of Earth (top view)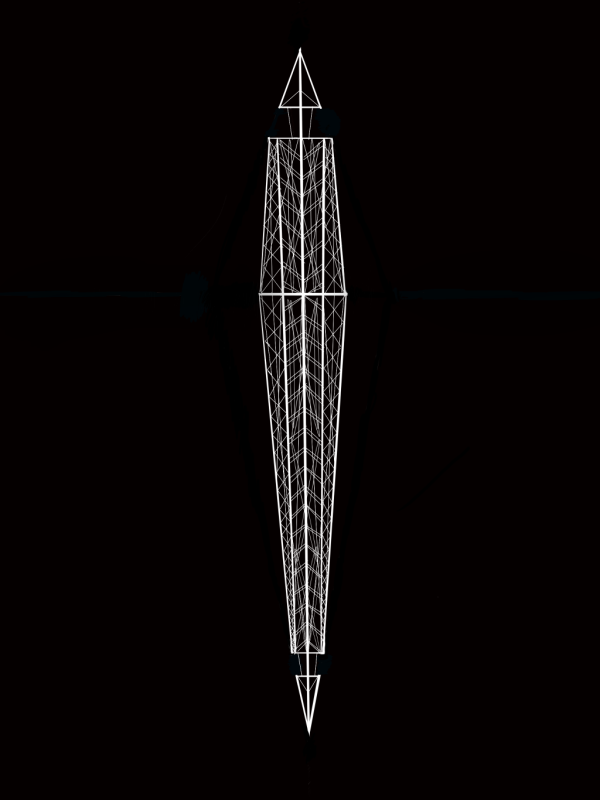 A blueprint of Earth (side view)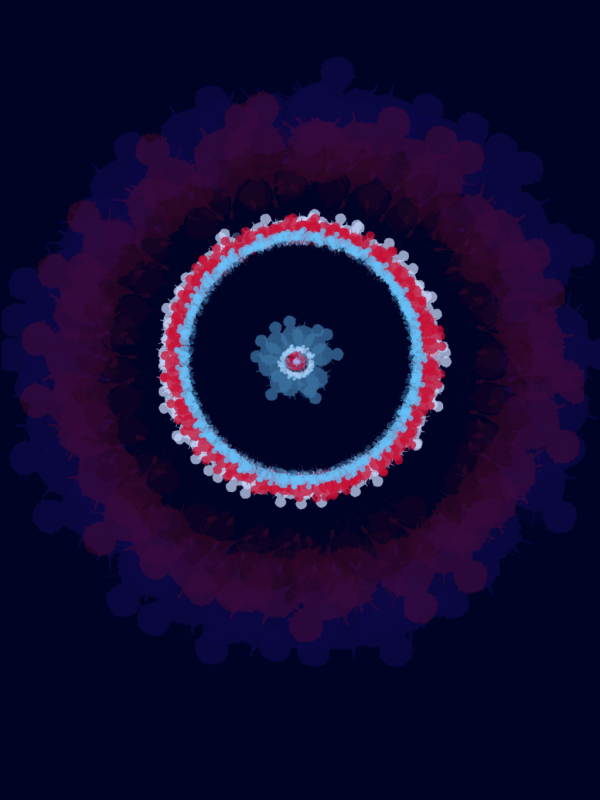 A vision at the heart of the Earth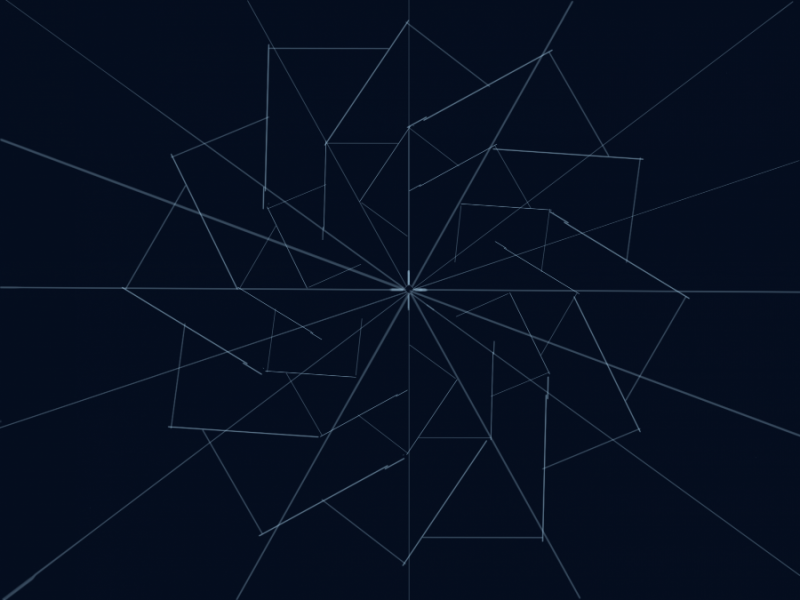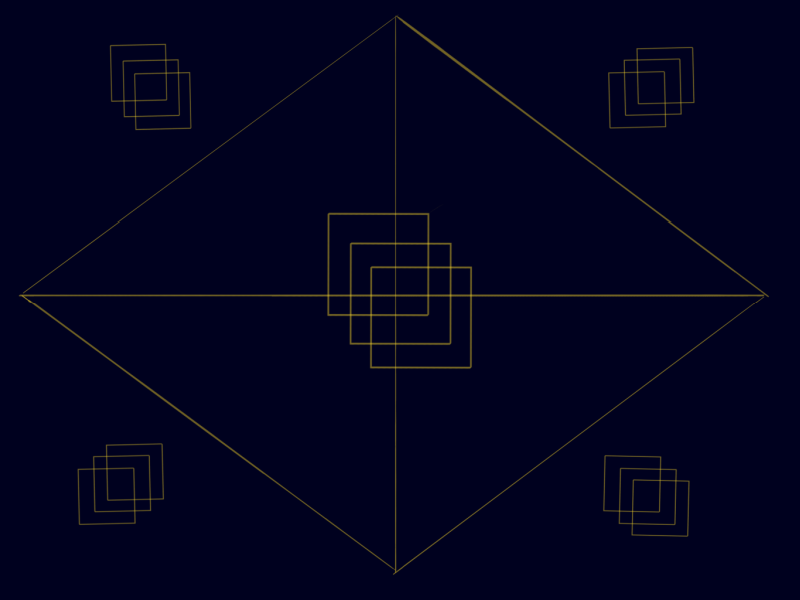 The comity of expressed service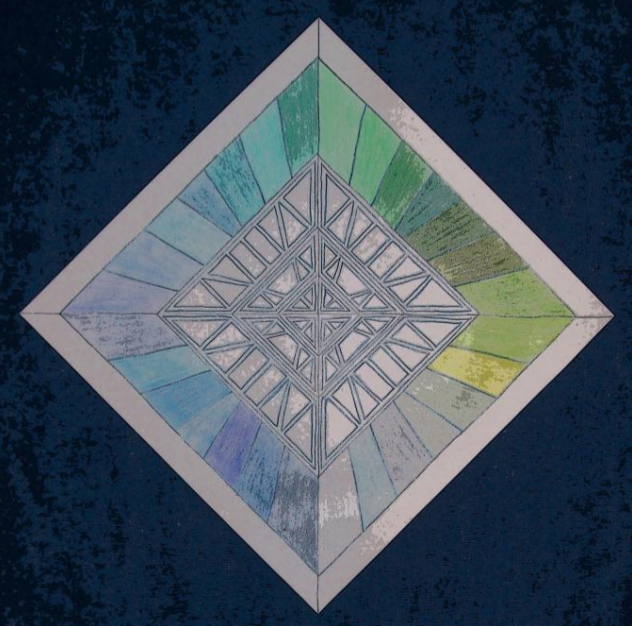 Energy of a year (drawn freehand in pencil)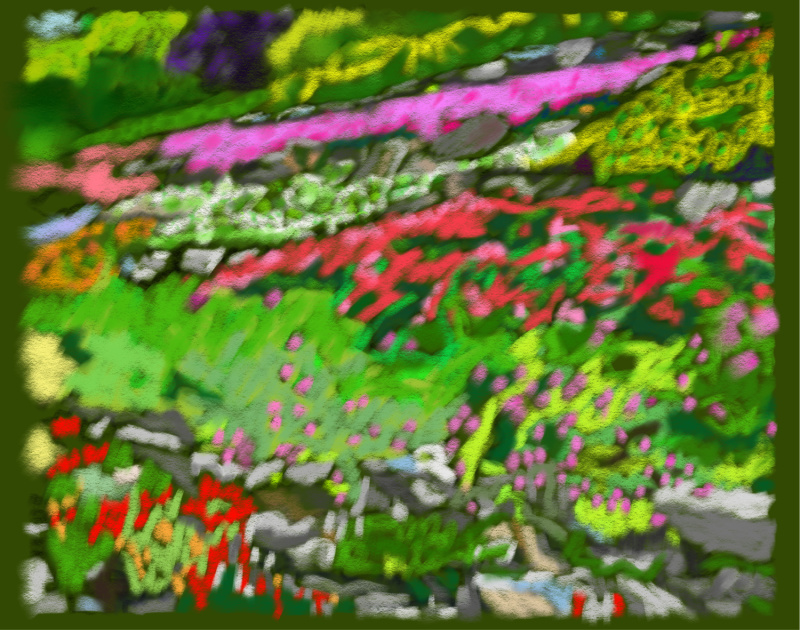 In the garden of the wholeness of being #1: Form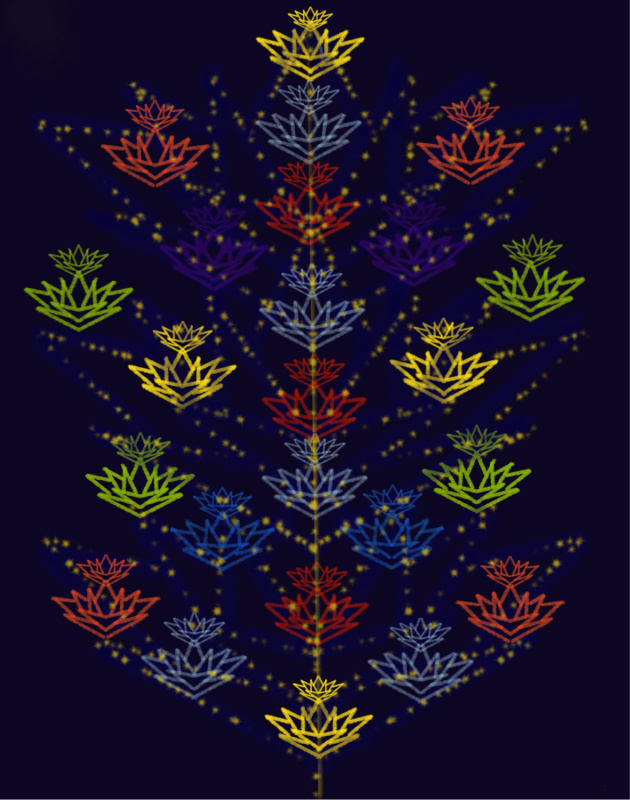 In the garden of the wholeness of being #2: Energy beyond the form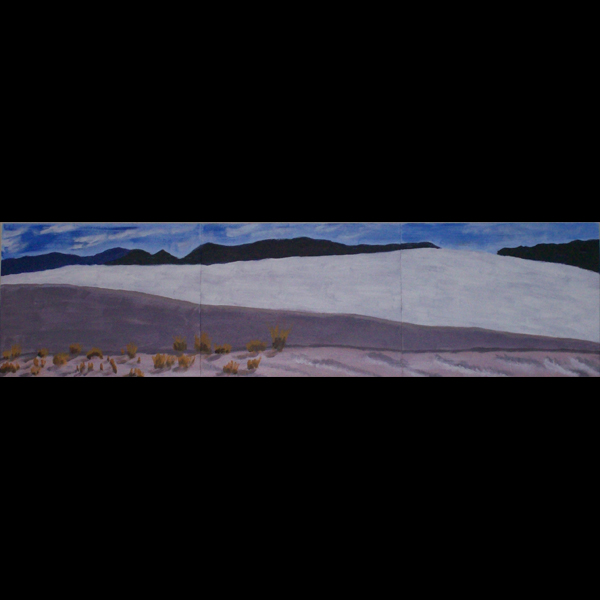 White Sands, New Mexico: Form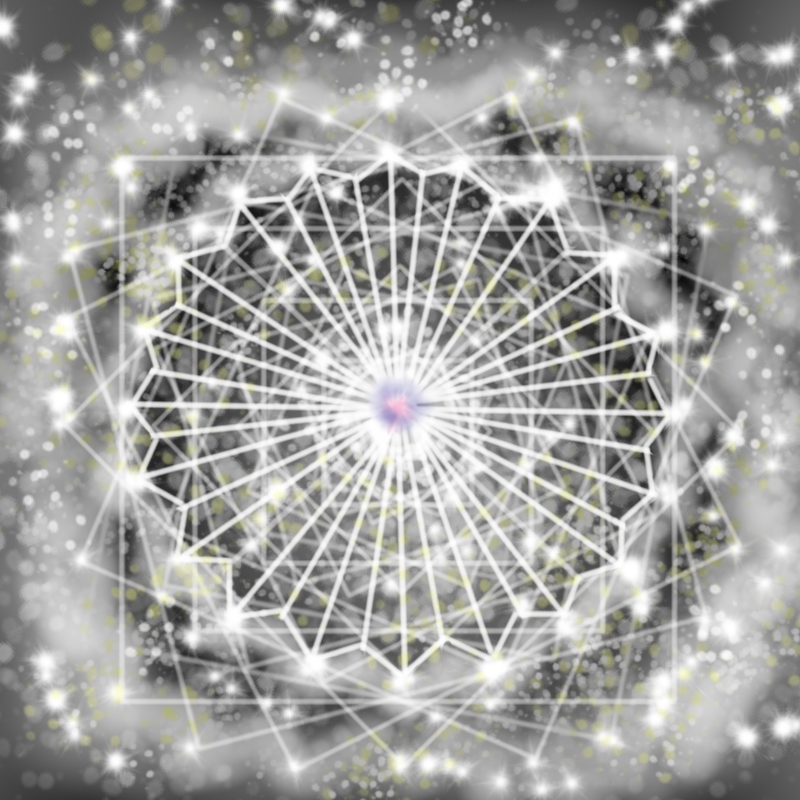 White Sands, New Mexico: Energy beyond the form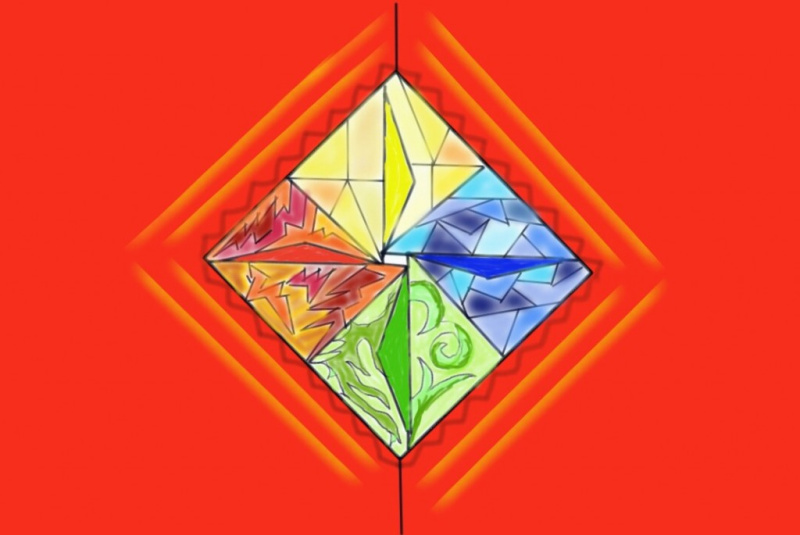 7 creative energies series: #4 energy of beauty and harmony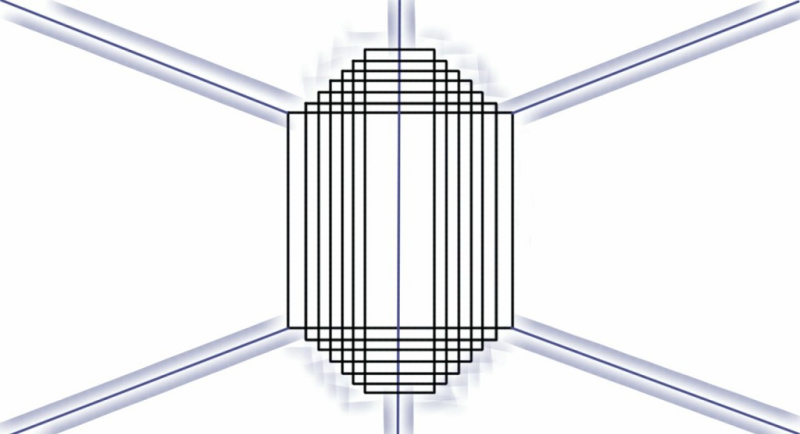 7 creative energies series: #7 energy of ritual and organization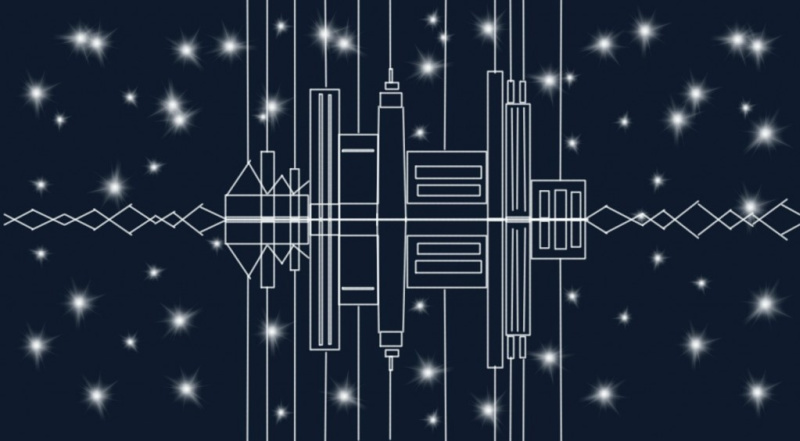 7 creative energies series: #3 energy of intelligence and creativity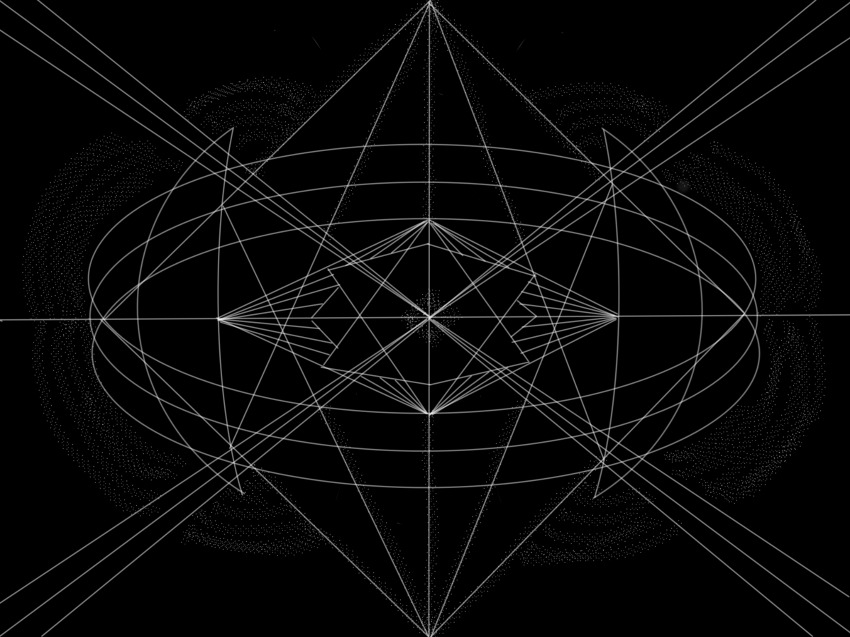 8 pillars of good series: #1 all is energy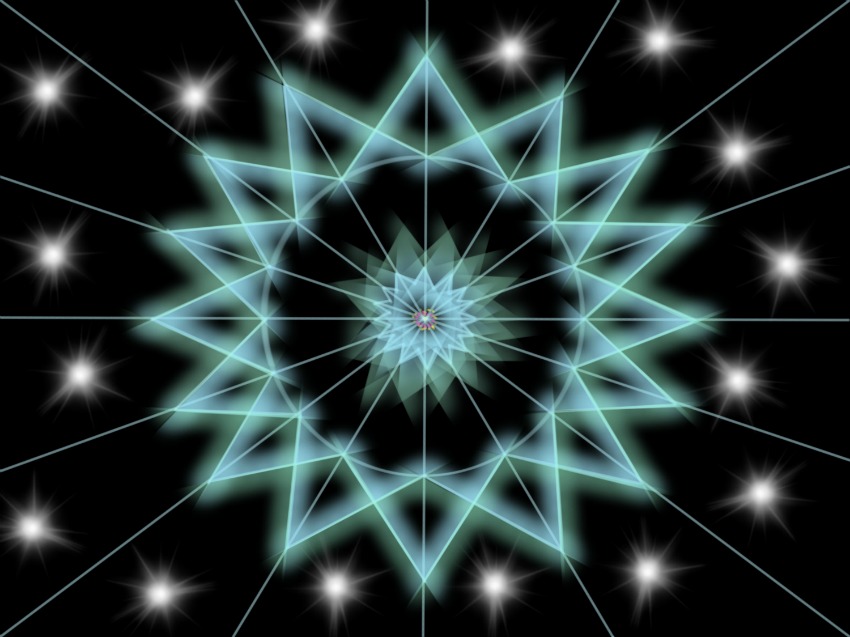 8 pillars of good series: #5 oneness of humanity (top view)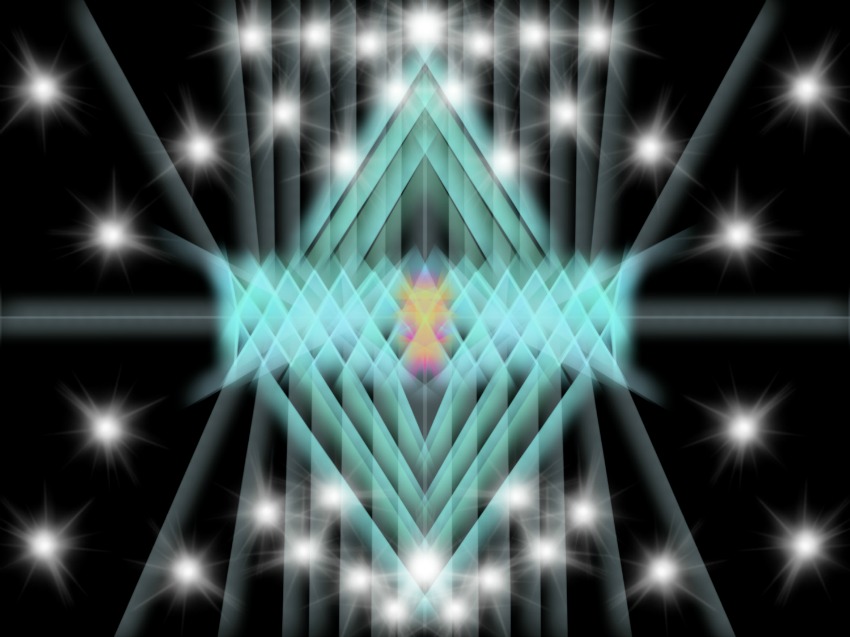 8 pillars of good series: #5 oneness of humanity (side view)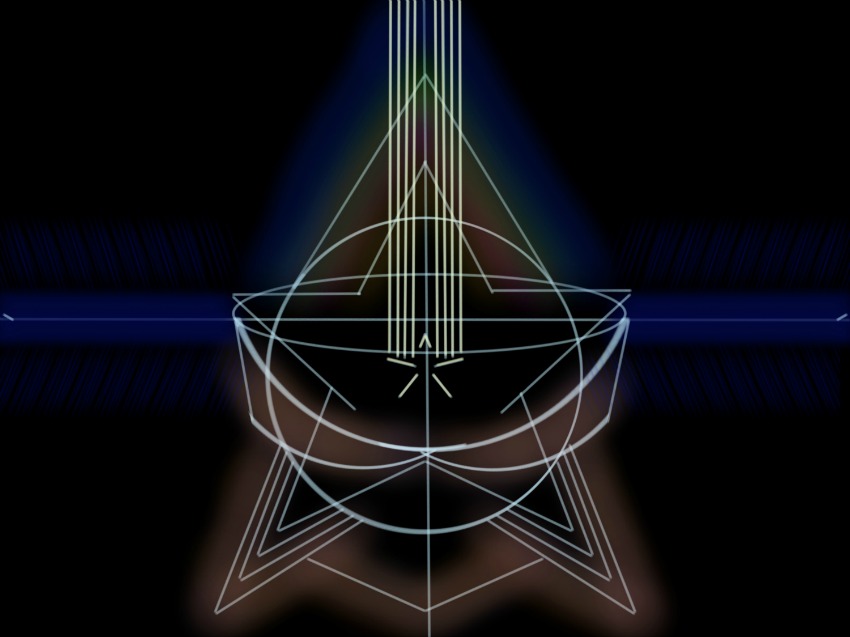 8 pillars of good series: #7 sharing abundantly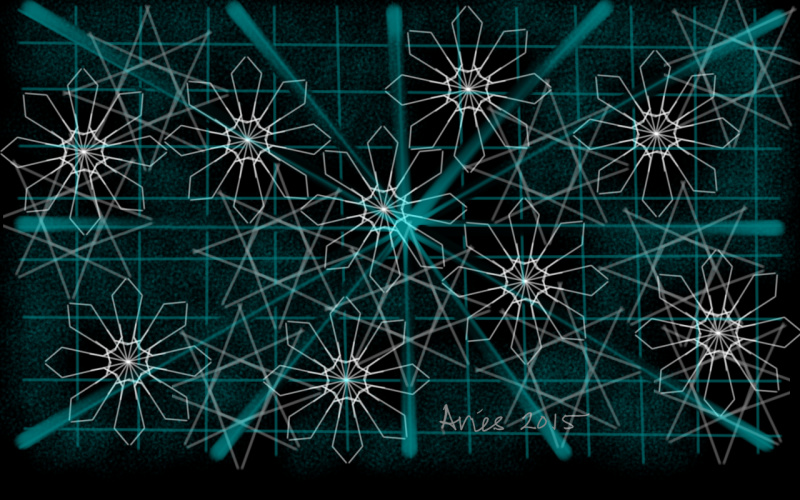 constellations series: aries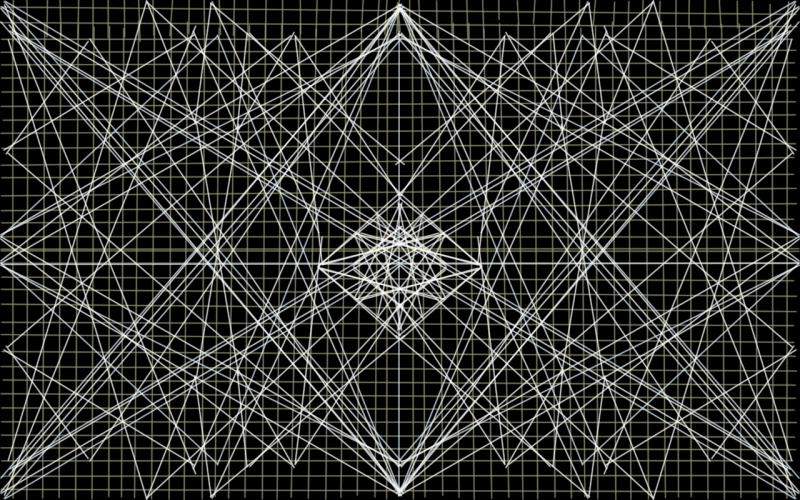 constellations series: taurus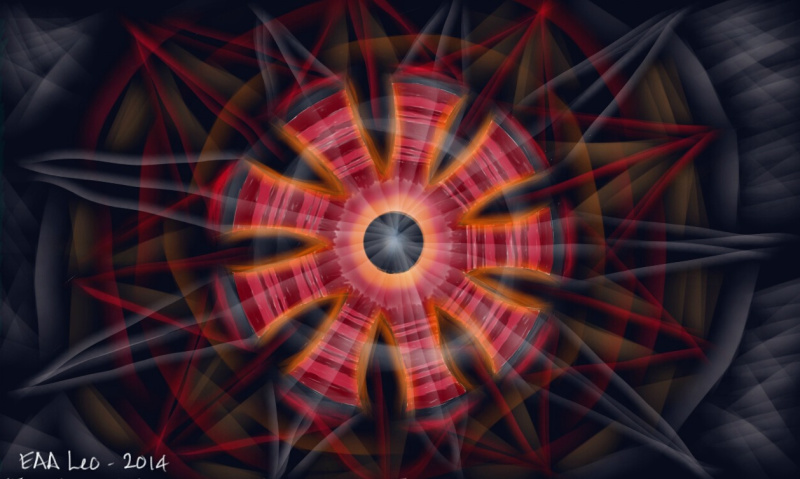 constellations series: leo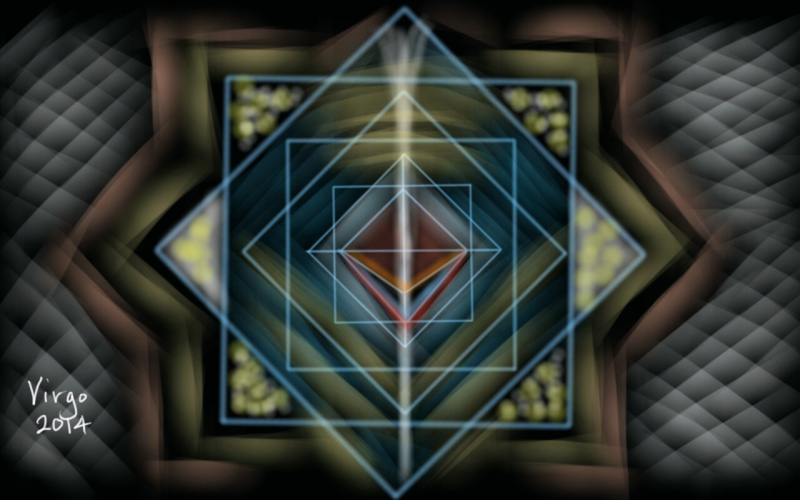 constellations series: virgo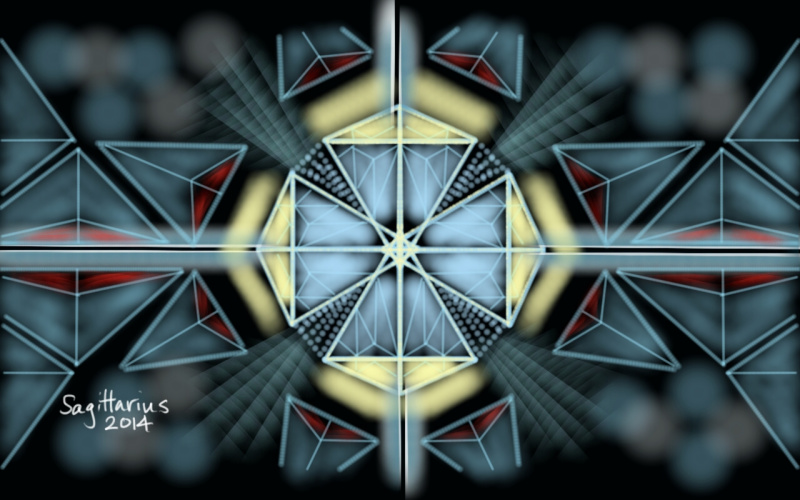 constellations series: sagittarius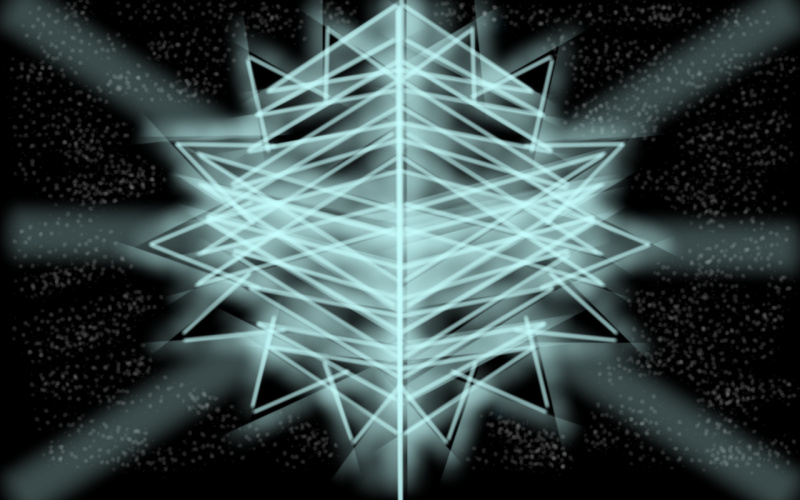 constellations series: aquarius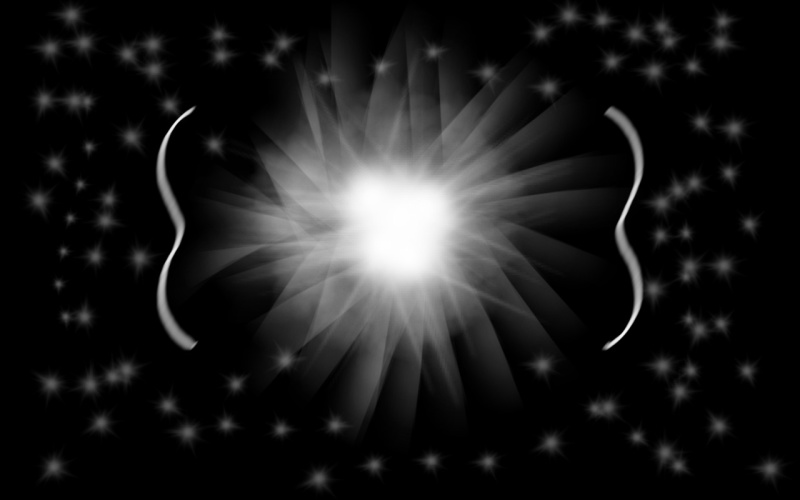 We are all living energy…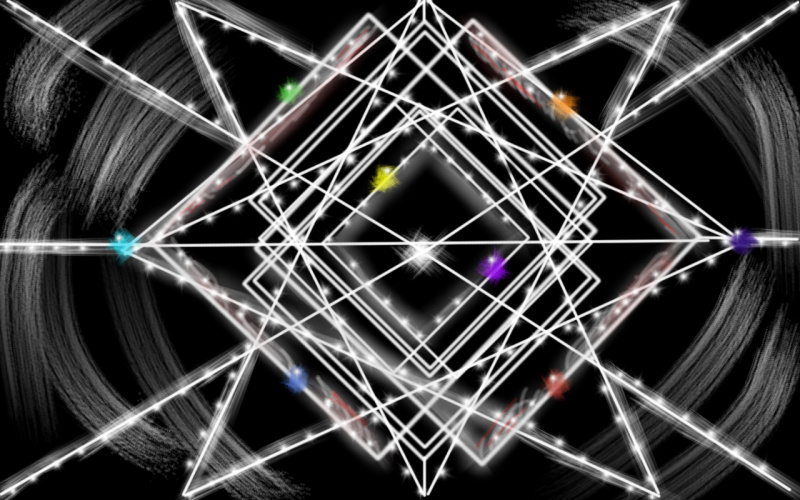 Navigating evolution through energy…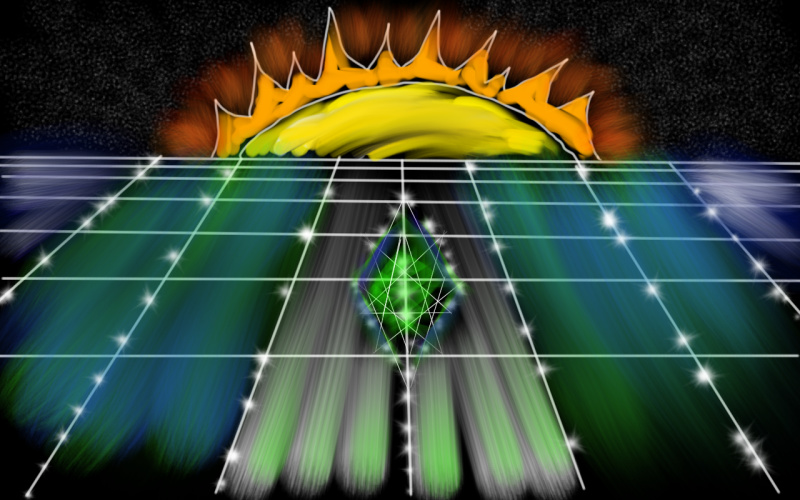 As citizens of the world of energy…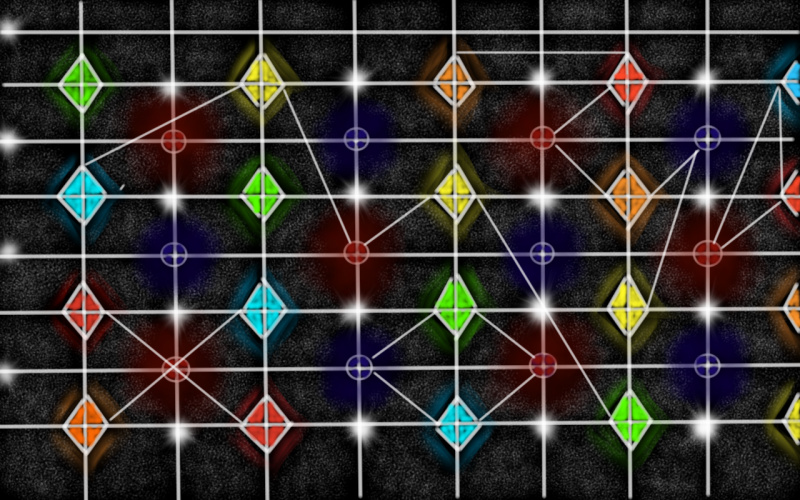 In communities of evolving lives…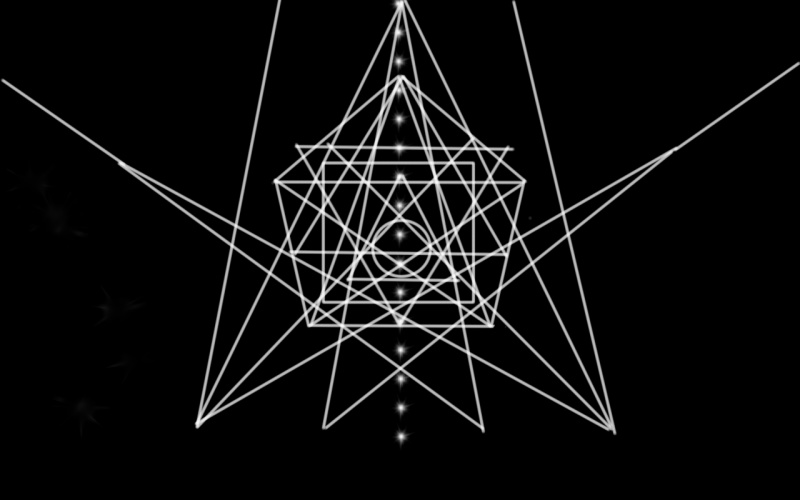 Cooperating with energy and energy arts…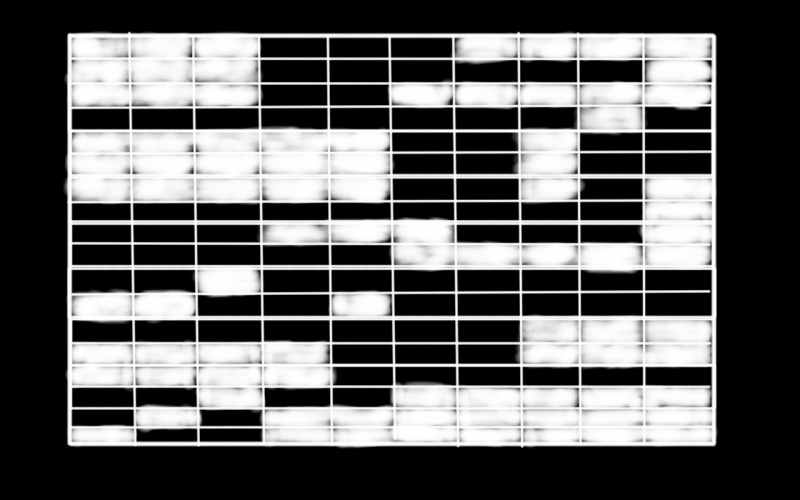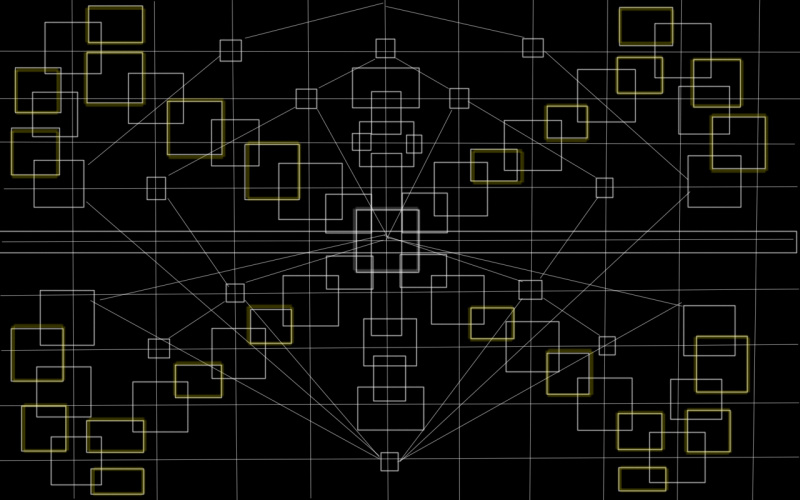 Through good works and relations…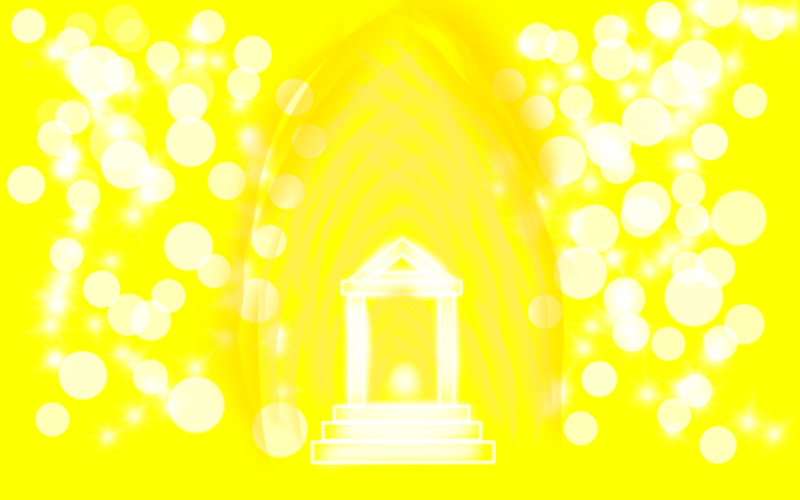 Infused with the spirit of abundant exchange.
Gallery: Golden Threads of Good Art
The aim and hope of the Golden Threads of Good Books and their accompanying art is that the many lives who sense and seek the "something more" to life than meets the eye are encouraged in their seeking, affirmed that what they sense is real, experience expanded meaning in what they are looking for and finding, are fortified in their belief in the power and value of good, and are nourished by the expanded world of the unseen that connects us all and points the way to our noble destiny as stewards of a harmonized world.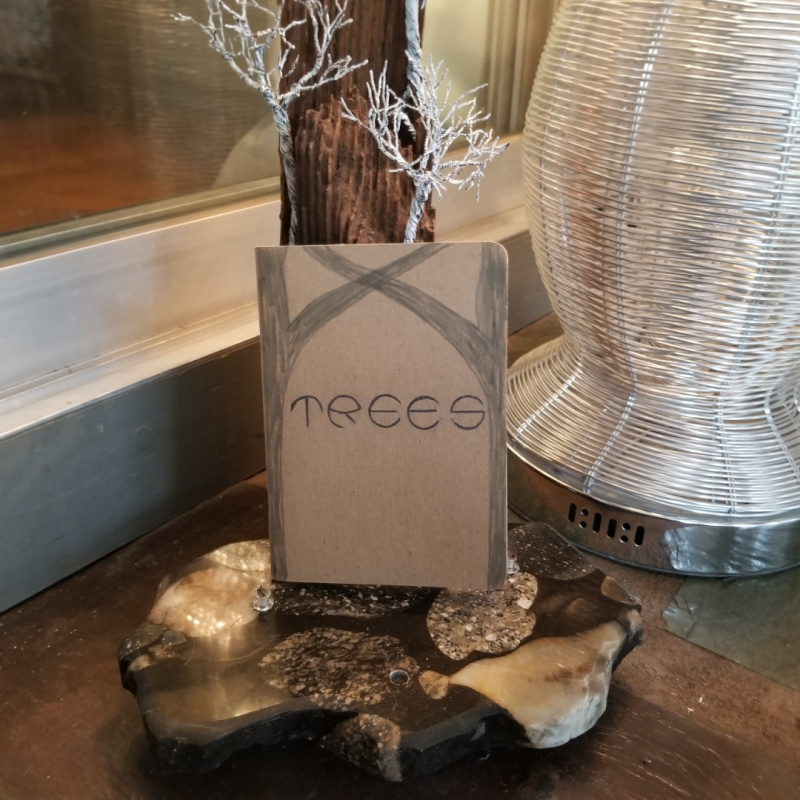 Cover of "Trees: Canopies + Carapaces"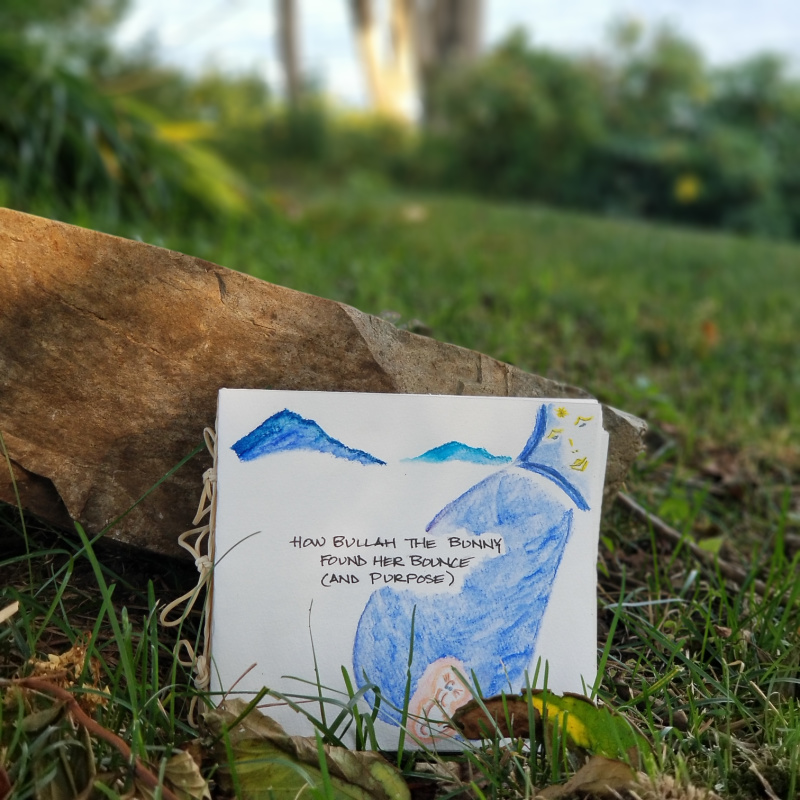 Cover art from "How Bullah the Bunny Found Her Bounce (and Purpose)"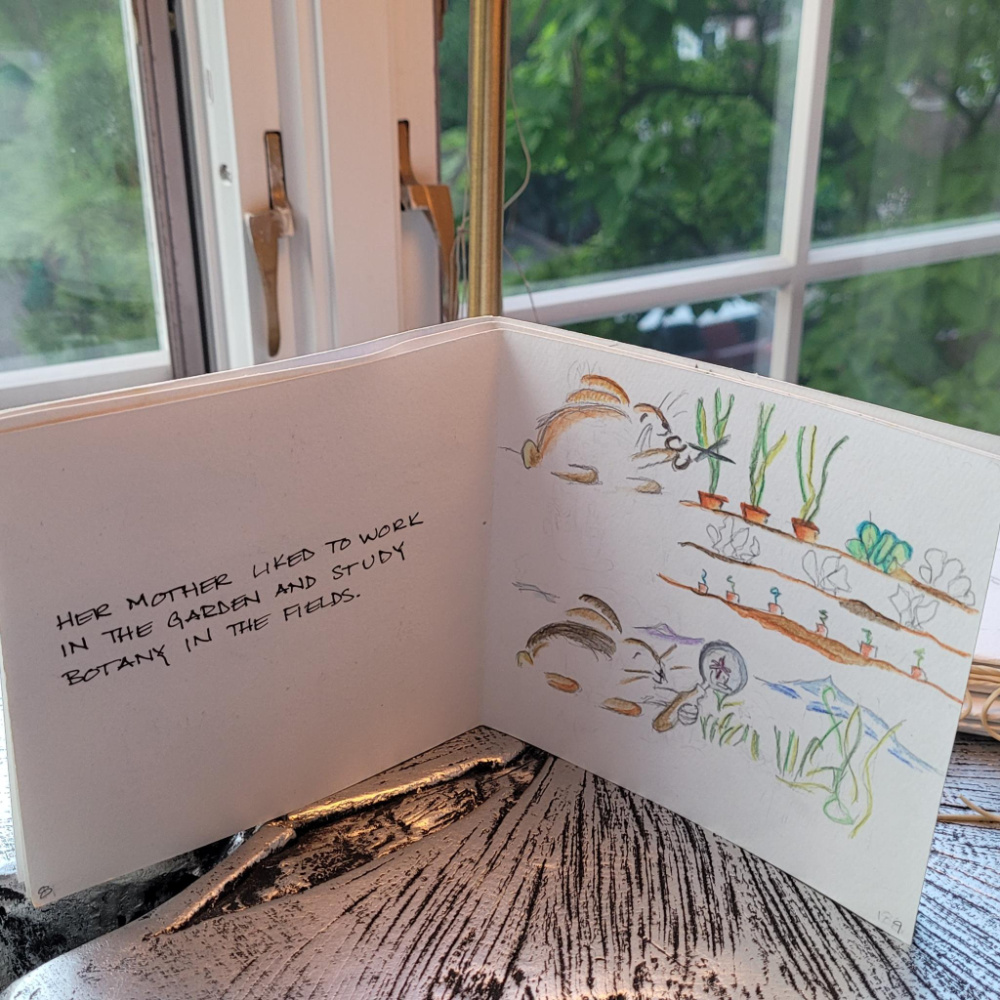 Inside page art from "How Bullah the Bunny Found Her Bounce (and Purpose)"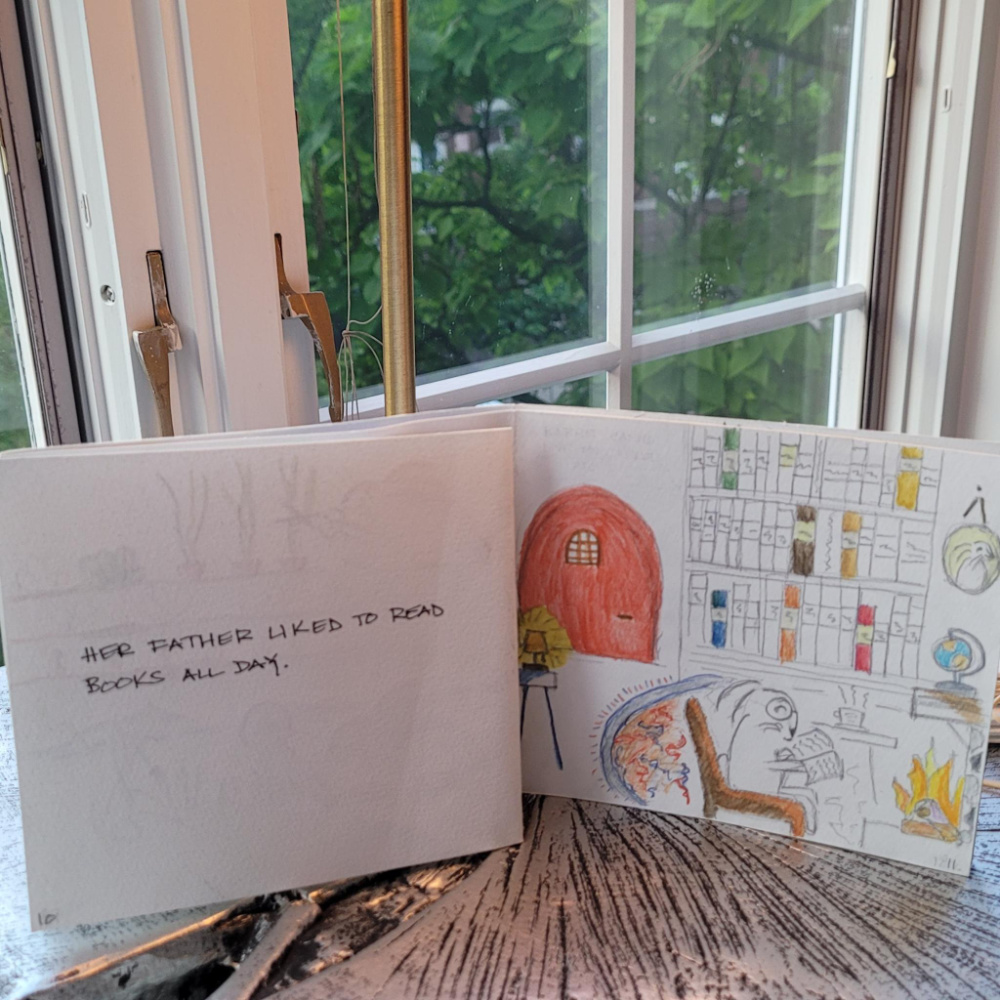 Inside page art from "How Bullah the Bunny Found Her Bounce (and Purpose)"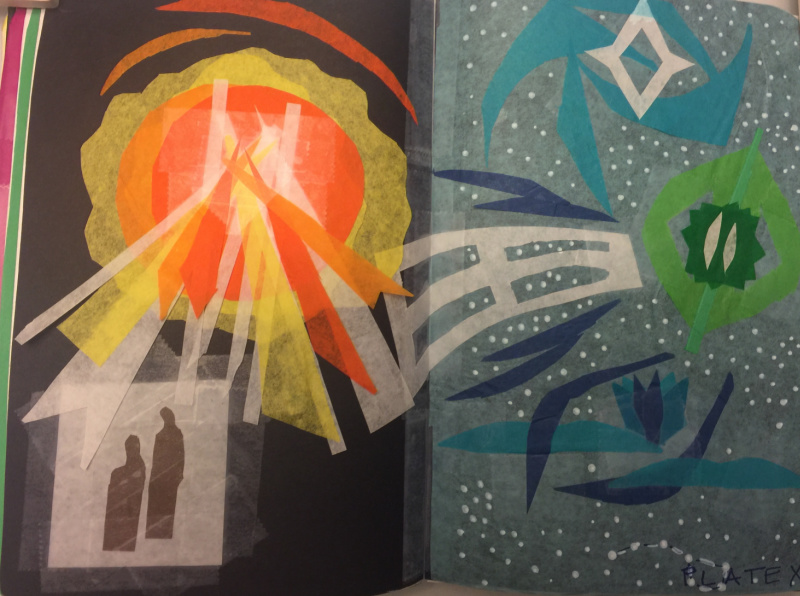 Paper collage art from "Field Guide #1: Welcome to Earth Manual for Newly-Incarnated Citizens"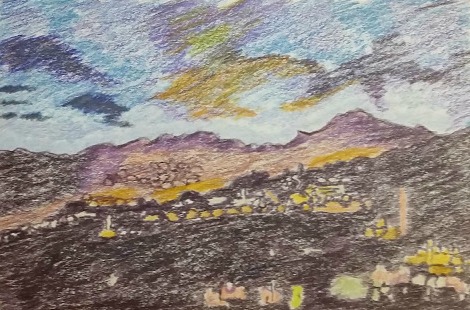 "4th of July Malibu" from "Wanderer"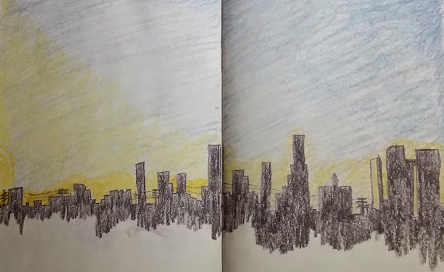 "Arriving LA" from "Wanderer"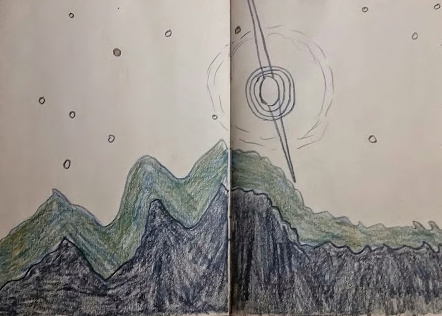 "Picacho Peak, Arizona" from "Wanderer"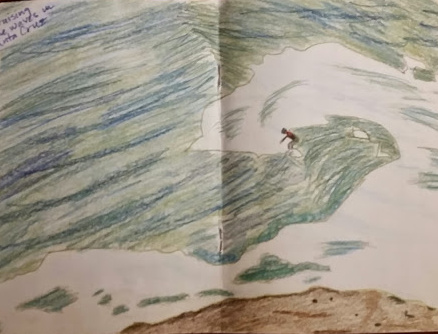 "Santa Cruz" from "Wanderer"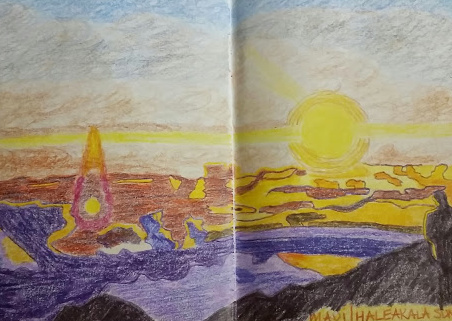 "Haleakala" from "Wanderer"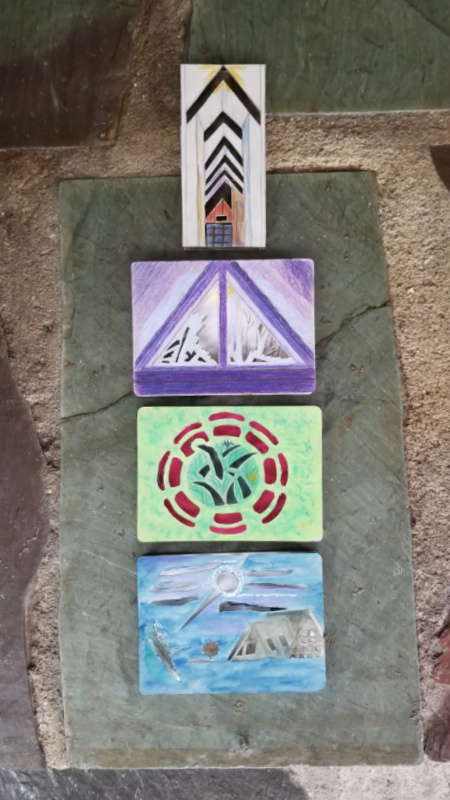 "We Think Too Small: The Universe Is My Community" (handmade 3D mail art + poetry story)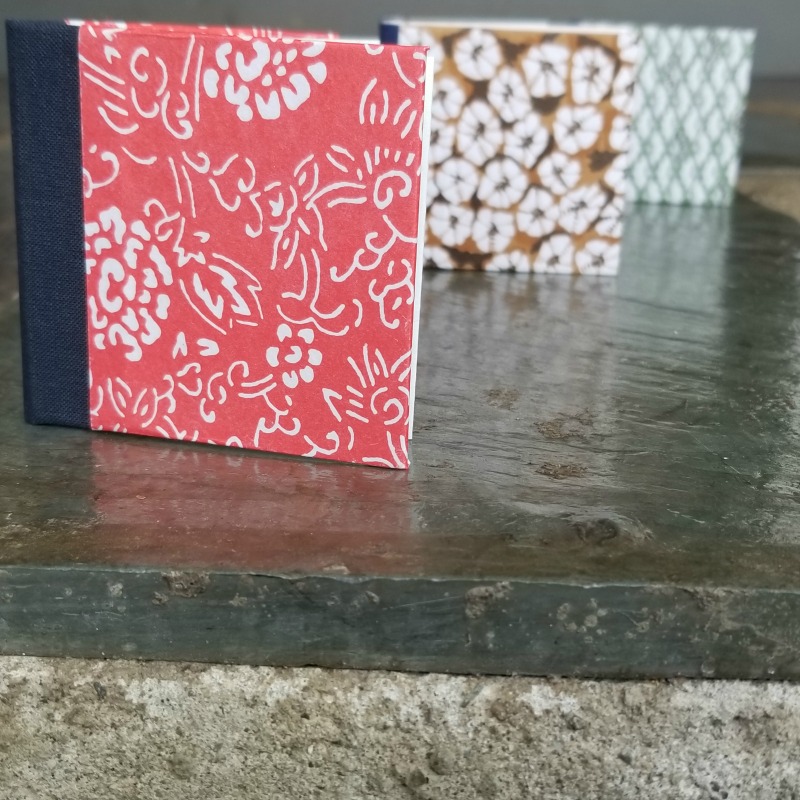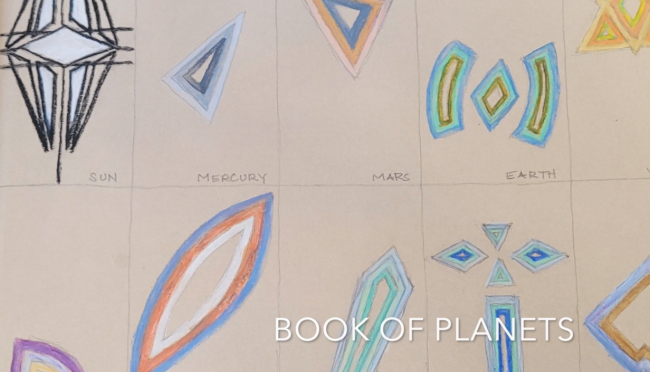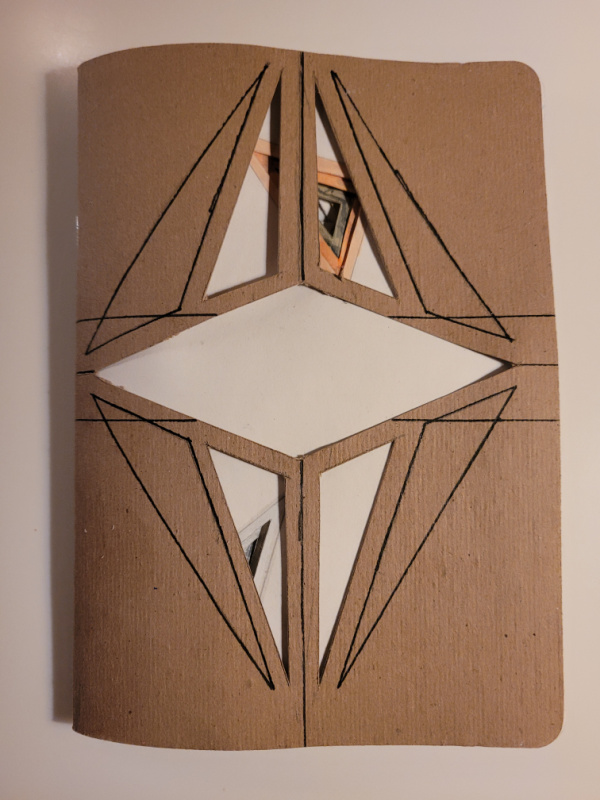 Art from "Book of Planets": The Sun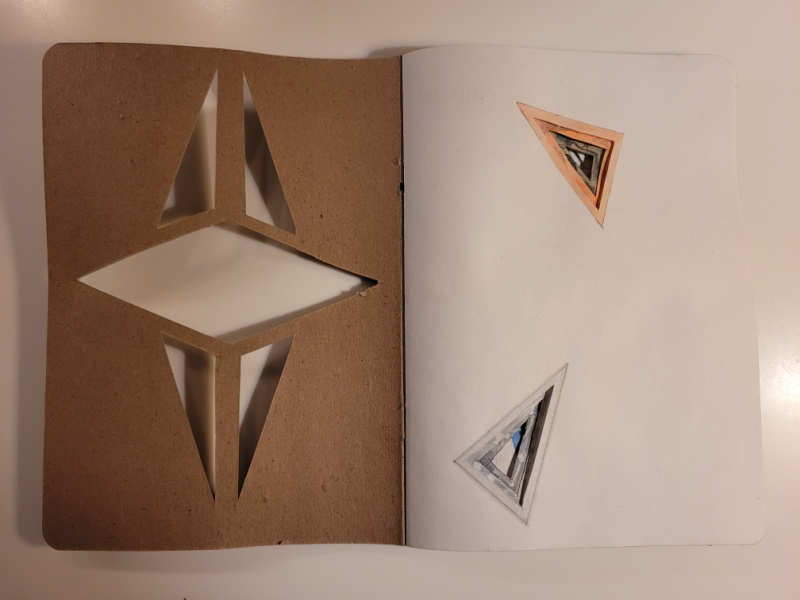 Art from "Book of Planets": Mercury + Mars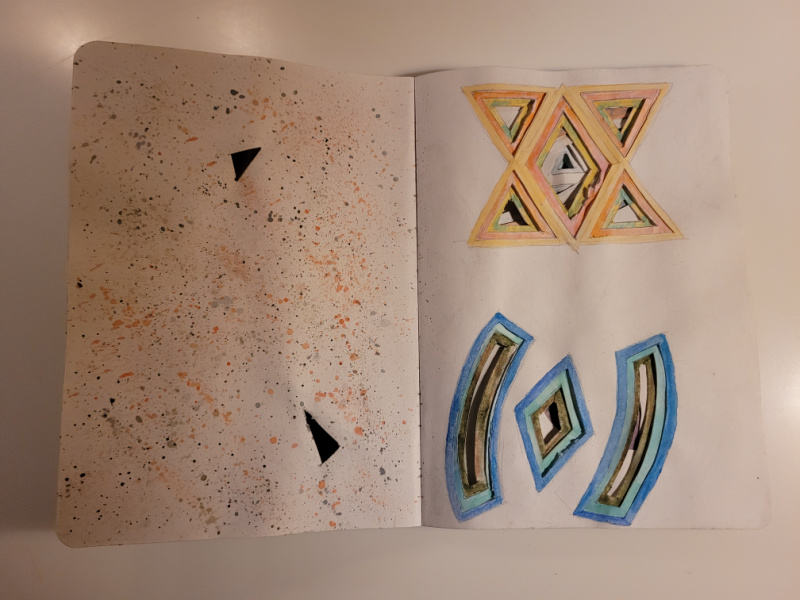 Art from "Book of Planets": Earth + Venus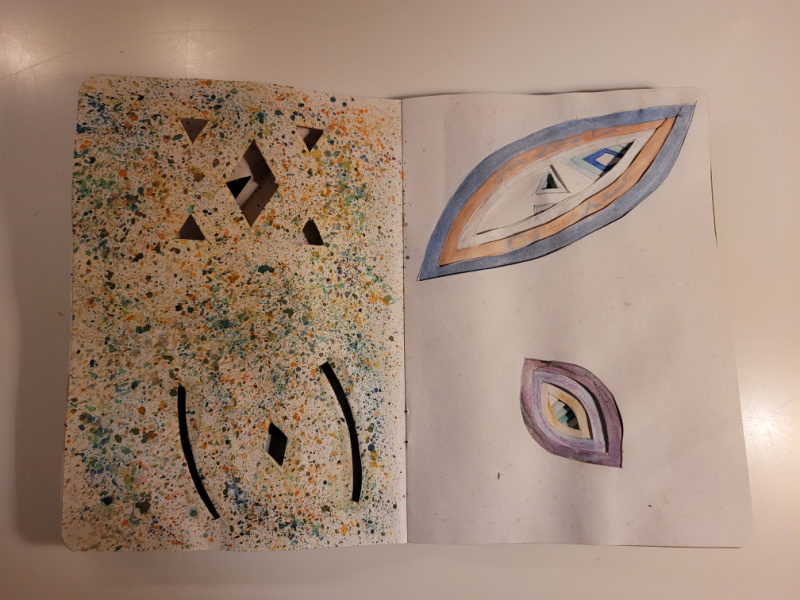 Art from "Book of Planets": Saturn + Jupiter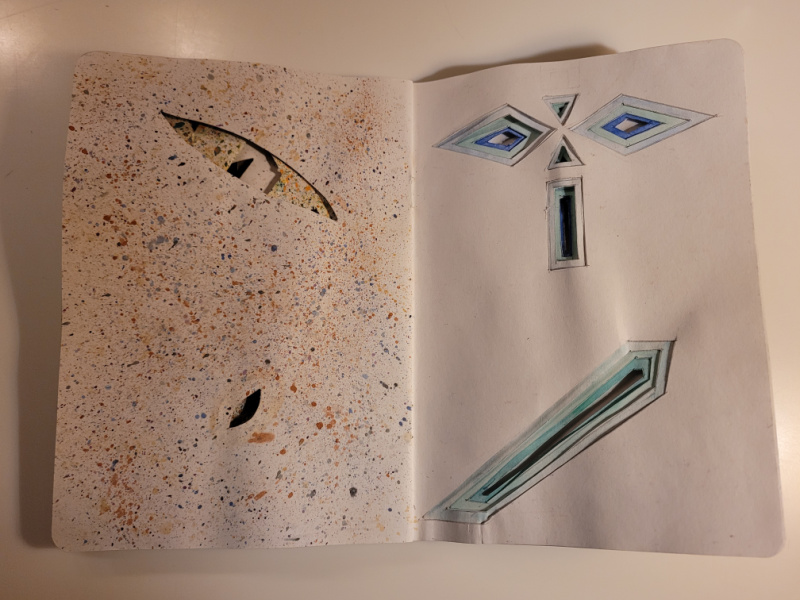 Art from "Book of Planets": Uranus + Neptune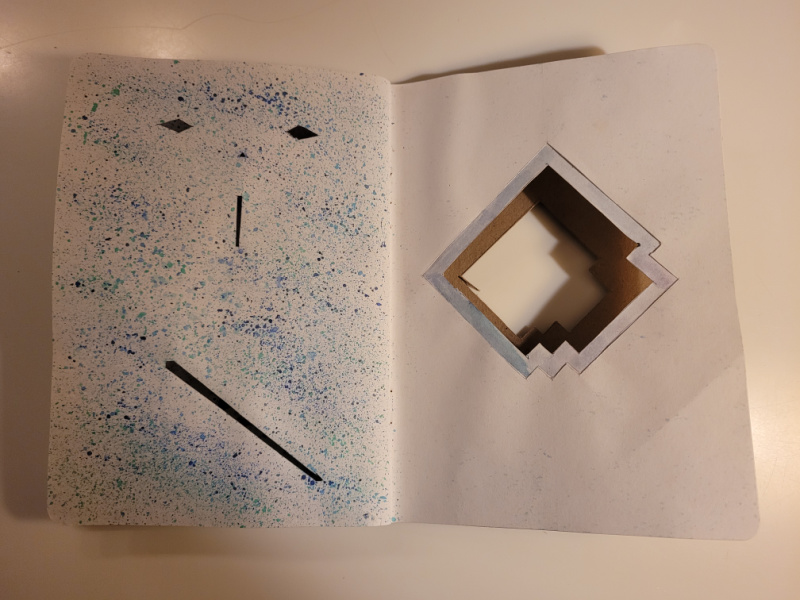 Art from "Book of Planets": Pluto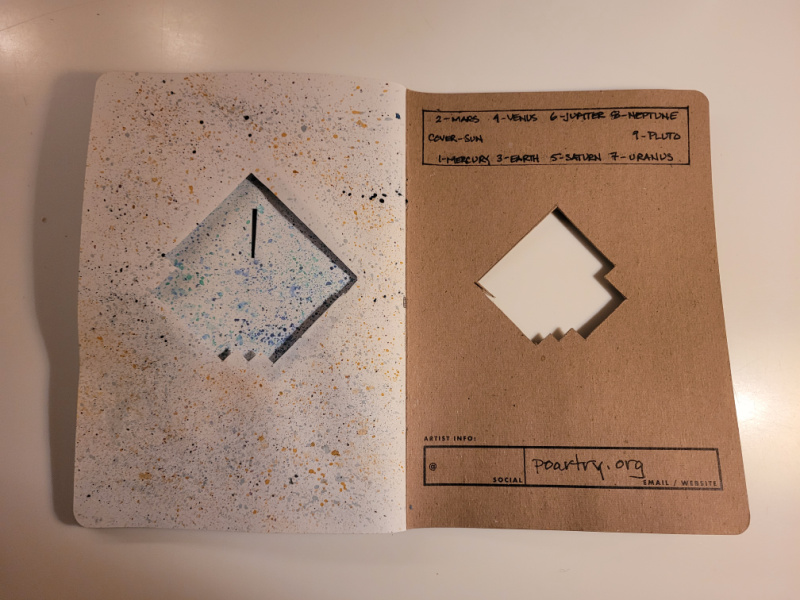 Art from "Book of Planets": Back cover
World Good Story: Book of Planets
Chicago: A Universe Story
A Poetic Planet Earth Story
Please email me directly at poartryproject@gmail.com to inquire about purchasing selected art in the galleries above. Pricing is generally $450 – $1650. Artwork is available unframed or framed, and is priced accordingly.
Subscribe to Our Newsletter
Keep up with all sorts of creative opportunities, events, prompts and news. We won't share your data – ever.