April 2019 Voicing Art Poetry Reading + Poems
inspired by the art of roger coleman + peter curtis
PROSE | LOOKING BACK - Sydney Taft Cole
by Sydney Taft Cole
[inspired by Intervals No. 30 and Intervals No. 32 by Peter Curtis]
When asked the question, I pause. It all happened such a long time ago. I still wonder if I did the right thing. My life would most certainly have been different if I had stayed. I am sure they could all see the fear and uncertainty in my eyes and the wrinkles in my forehead as I boarded the train. I held the bar above my head. I held it tight. I put all my confused emotions into that bar. I could practically see it vibrating with my feelings, barely able to hold them all. The bar was made of old metal, likely iron or steel. It felt cold against my sweaty hands. It was discolored, probably from all the hands that had grasped it with their own clamminess as I was then. I slowly unwrapped my fingers from the bar and pulled one of my hands off. I looked at my palm and noticed a collection of brown fragments in the creases of my hand. I wrinkled my nose and shook my head, trying not to think about where the brown could have come from. That train ride seemed long and silent even though it was full of noisy passengers. Children, teenagers, young adults, parents, and grandparents. I saw another girl about my age, but she was smiling and laughing with her friends. I looked at her, and our eyes met for a split second and in that second, I heard silence. It must have been one of the seven-minute intervals of silence within a group of people. I bit the dry skin on my lip. My brown eyes looked down and to the side. That girl and I had made some sort of strange connection in that tiny amount eye contact.
I remember seeing a field as the train whizzed by and felt somehow intrigued. So flat and solitary. I felt solitary too. I was on my own on this journey. In the midst of my internal dialogue, I heard a sound like a cry. It came from the way I had come. I turned and looked back. No one else turned and the chatter did not stop so I wondered if I was the only one who had heard the sound. Perhaps I was hearing the cry of myself a few hours earlier. The cry that had stayed inside my mouth as I boarded the train. The cry that threatened to take me over as I left. I heard it now. Perhaps it was an echo of my own feelings. I will never know. There wasn't anyone else who turned around. I don't know what I heard.
Looking back on the experience now, I wonder what had driven my actions. To leave, to take the train, to… As I go back there now I am looking back. Back to the place I was born, to the place where I saw the girl with her friends, to the place where I caught a glimpse of the lonely field, to the place where I first noticed the bar I was holding, to the place where I boarded the train. I turn my head now and just, look back.
ABOUT SYDNEY:
Sydney Taft Cole is honored to have been selected as a Voicing Art reader. She is a Vermont 11th grader who has always enjoyed reading and telling stories. At around age 10, she began writing one-page stories in her journals. Currently, she is intrigued by and enjoys writing imagined internal dialogues. Sydney has been accepted into and will be attending the week-long Young Writers Governor's Institute this summer. Her writing can be found on the Young Writers Project website and has been published in the Burlington Free Press, the Times Argus, and on the VPR website with an audio recording. She has previously shared her work at Poetry Riot at ArtsRiot. Sydney's other interests include musical theater (performs with Very Merry Theatre), traveling, spending time with her friends, and hiking mountains.
POEM | PHYSICS OF A MOMENT - Shanta Lee Gander
by Shanta Lee Gander
[inspired by "Intervals" by Peter Curtis]
There is a moment that whatever created us
comes bubbling to the surface to reveal itself to
the world and to ourselves
Just like the truth that the speed of light
was never really about the light
And the speed of sound is about placing
it all into a neat equation
But we can't really see, we can't really hear
They are figments of our conscience
There is a bubbling that comes to the surface
and the moment that created us reveals
itself to the world
Those truths about the speed of light, or
the way speed of sound encapsulates your
body in the way that form ceases to exist, in
the way that colors magnify to reveal new ones
the only way you can see tectonic plates move,
what wouldn't you do to catch it?
ABOUT SHANTA:
Shanta is an artist and leadership professional whose artistic endeavors incorporate writing prose, poetry and articles, as well as photography.
www.facebook.com/ShantaLeeG
POEM | MRS. MAGOO - Jimmy Tee
by Jimmy Tee
[inspired by exhibit themes of abstraction and perspective]
downtown clowns and walking weasels artists sitting at their easels
moms with bombs and fires from hell we're messed up but the cultures well
airbrush touch in default setting agents aiding and abetting meatless meat in football sport there are no changes to report
bottle battles in pop up ads Scorsese types directing fads notes in totes with axes to grind you got your madness I got mine
a sincere fear of world war three
and the future rising of the sea
son and daughter daughter and son
the rhymes the cure so here comes one
POEM | HARVEST AVENUE - Henry Motto
by Henry Motto
On Harvest Avenue, everything was baseball bats
puddles were portals to portraiture memories
melted like gallium spoons.
Welding masks made it hard to see
faces. The wet concrete was milk
toothpaste still tasted fresh
under street lamps soiled,
the curb never liked the star gazer.
The fallen ginkgo berries
clouded the Grass
like vomit unflushed in a toilet bowl.
A brass doorknob flushed against a black door
reminded me that I had never seen your feet,
I had always pictured your hands
drenched in white lace,
softer than puppies tummies.
I can never tell how old you are in my dreams,
like the poems passed through pay phones.
The stones stuck to my palm
reminded me of your brass doorknob,
my feet sweat all the way
to your welcome mat.
I felt the knob and I thought of your breast
it choked up on me.
It was a baseball bat,
I was on my third ball
my last chance,
I walked home.
everything was baseball bats, on Harvest Avenue.
POEM | DAWN RISES OVER VEGA - JC | THE POARTRY PROJECT
by JC | The Poartry Project
[inspired by the entire exhibit experience + body of works]
Earth revolves its shoulders and bursts into flame.
Flaming frames fandango and the heart of Mars shivers-quivers
        sympathetic frisson.
The Red Planet melts
as Earth fire burns blue.
There was a time I loved you, but that time has passed
as new love takes form.
That old love,
red and hot.
The new,
cool and blue
Burning with an intensity
no fandango can fan
into more fervent flame.
My love lights legends
waiting to be told.
Lift-off into something so much more
that we will put our fascination with Mars
into an old trunk in the attic
with the beloved things
to let the red burn blue
and find its own way.
ABOUT JC
Founder of The Poartry Project, poet, visual artist, cartographer of the unseen, builder of loving worlds through loving words
poartry.org
POEM | LAST SUMMER - Jenn Travers
by Jenn Travers
[inspired by "Intervals No. 2" by Peter Curtis]
I love you
When the slow slide of hands
And feet whisper together
As they take us to the dance floor
I love you
When our kisses linger
Like the phantoms
We will become by morning
I love you
When you hold me
Like an expensive vase
Beautiful and breakable
I love you
When you stroke my face
Before our lips find the rhythm
And taste like bitter coffee
I loved you
Most when I did not realize
And danced to your lead
Before you released my hand
ABOUT JENN:
Jenn Travers is currently a junior at the University of Vermont, where she studies English and theatre. She started writing poetry last spring. Her work has been exhibited in UVM's Ekphrastic Poetry Reading at the Fleming Museum in April 2018, Wild Burlington for Art Hop at ArtsRiot in September 2018, and will be featured in Laurel Moon's upcoming publication. She is currently studying abroad at the University of Kent in Canterbury, England.
POEM | FORMS BENEATH - Frances Cannon
by Frances Cannon
When I skate across a frozen body of water in winter, 
and when I drift in a boat in warmer weather 
across a freshwater pond or saltwater bay, 
I see shapes lurking below the surface. 
I imagine these shapes until they manifest 
beneath my canoe, or my skate-laced feet. 
Looming, white, ghostly forms, drifting aimless 
like the husks of old sea monsters, 
if they shed their skin as snakes do. 
Sometimes the forms are black shadows 
which rise beneath a boat like a whale 
bringing a silent greeting. Sometimes 
the shapes are human—more graceful 
in their marine dance. These water beings 
visit me in daylight as thoughts, but at night, 
the shape beneath the surface is me.
POEM | RISE AND FALL - KS
by KS
[inspired by a painting by Roger Coleman]
Roots rise
Clouds fall
Liquid life permeates our sacred breath
Found in the freedom of form
Loosed in the liberation of light
Liquid life pulses our sacred breath
Shielded in the womb of matter
Carried in the wings of spirit
Liquid life preserves our sacred breath
Grounded in the unearthed
Soaring in the untamed
Liquid life powers our sacred breath
Roots rise
Clouds fall
Liquid life permeates our sacred breath
Our Debut Voicing Art Book
Voicing Art: Poetry of Space | Place | Time
is now available!
Poetry inspired by works of art, the art of nature and the exploration of beauty, perception and insight through the cartography of the unseen.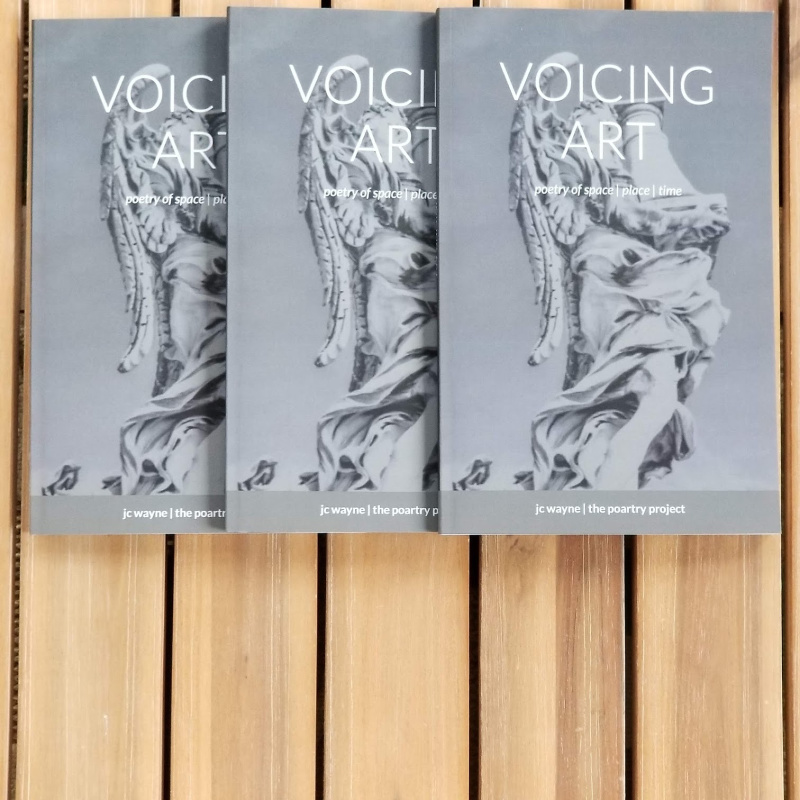 Subscribe to Our Newsletter
Keep up with all sorts of creative opportunities, events, prompts and news. We won't share your data – ever.